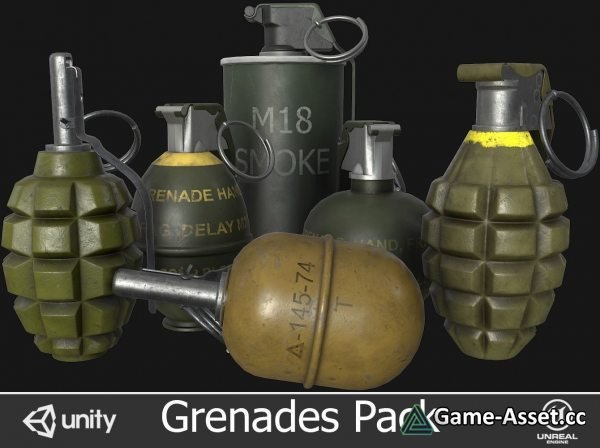 CGTrader - Grenades Pack Low-poly 3D model.
FBX | OBJ | TEXTURES.
Grenades Pack it is 6 high quality game ready models for Unity and Unreal Engine. This assets will be perfect for your First Person Shooter.
You can try my Free M18 Smoke Grenade from this pack.
Technical details:
4k textures (but you can downscale the textures from 4K to 2K or 1K depending on your needs)
models in .fbx and .obj formats
all textures in .png format
scaled to real size
ready to be animated
LODs are not included
All moving parts are separated and pivots in right position. So they can be easily animated.
Polycounts:
M18 Smoke Grenade (vertices: 2110 / triangles: 2680)
M26 Grenade (vertices: 2525 / triangles: 3498)
M67 Grenade (vertices: 2449 / triangles: 3296)
F1 Grenade (vertices: 2335 / triangles: 3330)
RGD-5 Grenade (vertices: 2354 / triangles: 3298)
Mk2 Grenade (vertices: 2204 / triangles: 3200)
Unity textures include:
Albedo
Normal
MetallicSmoothness
AO
Unreal Engine textures include:
BaseColor
Normal
OcclusionRoughnessMetallic