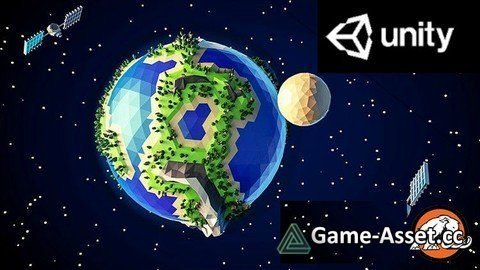 Title: Udemy: A To Z Unity® Development: Code In C# And Make Low Poly Art
Learn to use Blender to make 5 3D models of swords! Make a complete Ninja Survival game in Unity® with original art.
What you'll learn
Create 5 3D models of different swords in Blender.
Make original art from scratch.
Build a mobile Ninja Survival game in Unity®.
Code in C#.
Integrate art from Blender into Unity®.
Requirements
Download and install Unity® 5.4.3f1 (for game set-up and coding) and Blender 2.78c or higher (for 3D modeling and texturing).
Unity® and Blender are free to download. Please download and install Unity® and Blender before purchasing this course.
This course was recorded on a Mac computer, but you can use Unity® and Blender on a PC.
Description
Are you interested in game design and development? In this course you learn how to draw digital art in Blender. You also build a Ninja game for mobile using Unity® with original assets made in Blender!
Enroll now to learn something no one can take away from you
In Part 1, artist Kevin Liao from Mammoth Interactive shows you how to use Blender to make low-poly art. You draw 5 3D models of swords for use in game development or other creations of your choice.
This course is perfect for beginners. We begin with a thorough introduction to the Blender interface.
Blender is a powerful (and free) program that can be used to make art assets. The art you make in Blender is easy to add to games or other projects. Even if you're not an artist, you can make basic art models!
In Part 2, developer Glauco Pires teams up with Kevin to teach you the fundamentals of designing, coding, and modeling a mobile game. This course is unique because we make both the code and the art for the game from scratch.
First you design the game and its functionality in Unity®. You learn how to code in C# and build video game levels. Don't worry if you've never coded before. We start simple and add more to the game as the course goes on.
Included in this course is material for beginners to get comfortable with the interfaces. Please note that we reuse this content in similar courses because it is introductory material. You can find some material in this course in the following related courses
C# & Image Processing Masterclass: Make Mobile Games & AppsMake a Ninja Survival game for mobile in Unity and BlenderPractical Unity Developer Academy: Make Fully Featured GamesBuild 22 Games in GameMaker Studio, C# Unity® & BlenderC# Masterclass: Make RPG & Mobile Games in Unity & BlenderBlender - Create 5 low poly swords for 3D character modelsThe Complete Real World Game Development and Design BootcampCreate 19 Low Poly Models & Your First 3D RPG In Unity® C#
Why Unity®?
Unity® is one of the most popular platforms in game development. You can use Unity® to build 2D and 3D games. Unity® is cross-platform, which means it is easy to use with other platforms.
Then you create the 3D models for the game in Blender. You build all the art assets for the game. You learn how to integrate your art from Blender into Unity®.
Why Blender?
Blender, like Unity®, is a popular production suite that is free to download. Blender is a revolutionary tool for making 3D art digitally. With Blender, you can make art assets for games, like we do in this course.
Enroll now to join the awesome community of Mammoth Interactive
Download links for «A To Z Unity® Development: Code In C# And Make Low Poly Art»:
HOT4SHARE: