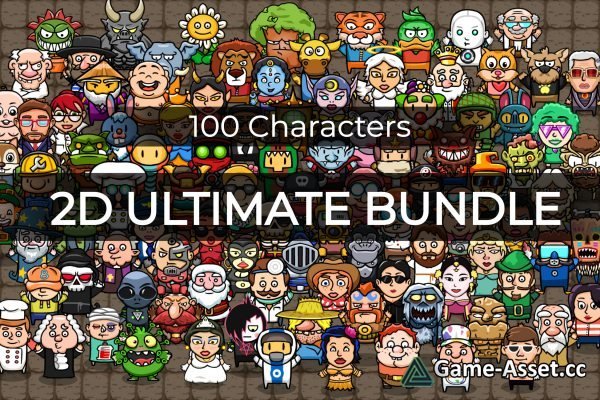 2D ULTIMATE BUNDLE – download Unity asset.
This package contains one hundred 2D characters suitable for top-down and side-scrolling games. It also comes with 174 weapon sprites and 191 world sprites which sums up to a total size of 934,365 sprites. Each character is made of 934 sprites.
Characters (100):
Astronaut, Bounty Hunter, Spaceling, Dino, Steampunk, Clown, Soldier, Bunny, Soviet, Rocker, Monk, Chef, Orc, Builder, Vampire, Queen, Agent, Werewolf, Frank, Zombie, Skeleton, Ninja, Samurai, Robot, Nerd, Iron Maiden, Grandma, Devil, Angel, Elf, Scientist, Biker, Hippo, Tourist, Model, Buddha, Spagettimon, Shiva, Jesus, Knight, Gorilla, Officer, Santa, Doctor, Farmer, Vacationer, Goth, Geisha, Ranger, Princess, Reaper, Alien, Patient, Squirrel, Emo, Hillbilly, Viking, Amazon, Ghoul, King, Wizard, Priest, Shaman, Grandpa, Cyborg, Golem, Duck, Cat, Dog, Bat, Dwarf, Groom, Bride, Baker, Painter, Bigfoot, Diver, Rabbi, Skater, Popstar, Stylist, Elephant, Tiger, Lion, Giraffe, Druid, Madman, Baby, Ginger Kid, Judge, Plant, Flower, Tree, Android, Bacteria, Ambulance, Belly Dancer, Go-Go Dancer, Gargoyle, Leprechaun.
The character texture size is 450x430 including animation safe frame. The true character resolution is roughly around 135x180 (depending on animation frame).
Characters are designed to work in four directions. Animations to the left and right are the same sprite. To get the right facing version it needs to be mirrored. This is a very common practice but it might result in small detail faults (e.g. eye patch change).
Asset version: 1.0