Monsters Ultimate Pack 02 Cute Series&nbspv1.0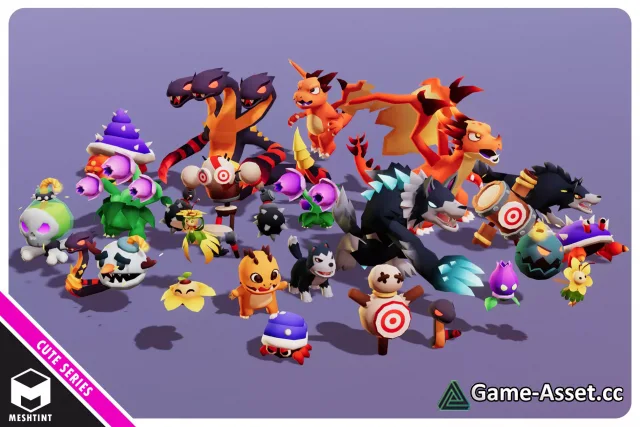 Download Unity Asset – Monsters Ultimate Pack 02 Cute Series (Latest version, $160 USD)
Cute Series Monsters come with 3 different evolutions. 'Evolution 1' is the least evolved ( weaker) and 'Evolution 3' is the most evolved ( Most powerful). Use it to show progression!
Monsters Ultimate Pack 02 Cute series
Price down! Original price is 216.14 USD. Buy them together at a discounted price!
This pack has 24 characters. All character's texture size is 2048 x 2048 ( set to 512 or below in Unity). File format is in PNG/PSD. Characters are using 1 diffuse map or 1 diffuse + 1 emission map. Unity's standard shader. Rigged & animated. Generic mecanim rig set up.
Evolution form 1:
1) Bud
2) Dragon Spark
3) Shell
4) Snakelet
5) Wolf Pup
6) Bomb
7) Sun Blossom
8) Practice Dummy
Evolution form 2:
1) Bloom
2) Dragon Fire
3) Snake
4) Snow Bomb
5) Spike
6) Wolf
7) Sunflower Fairy
8) Target Dummy
Evolution form 3:
1) Blossom
2) Dragon Inferno
3) Hermit King
4) Poison Bomb
5) Snake Naga
6) Sunflora Pixie
7) Training Dummy
8) Werewolf
Asset version: 1.0
Download links for «Monsters Ultimate Pack 02 Cute Series»:

Rating: