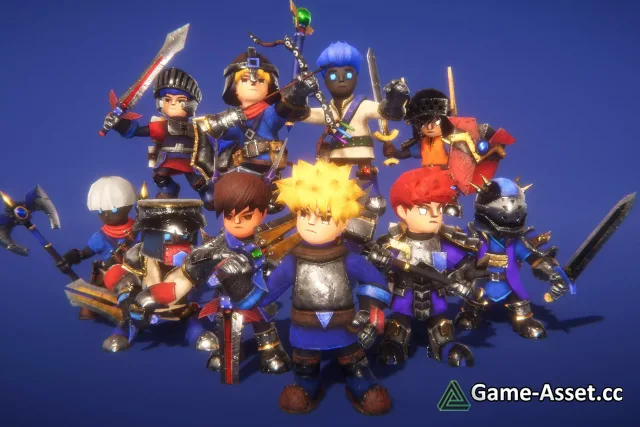 Download Unity Asset – Modular RPG Hero PBR. Perfect solution for making any RPG/Fantasy games with modular parts for infinite customization.
FEATURES
- Mask Tint Shader provided for infinite color change. ( for Standard / HDRP / URP 11.0.0 )
- Simple character controller provided for Sword and Shield / Double Sword / Twohands Sword stances. ( Bow and Magic wand controller not included )
- HDRP/URP(11.0.0) SRP 100% supported for regular shader and mask tint shader(Shader Graph based)
- Highly customizable with many modular parts and weapons(For details, look to the screen shots)
- Optimized for mobile games(low poly), four 2k atlas textures for all modular parts
- Various animations(about 200) for 6 different weapon stances fully compatible with Mecanim Humanoid.
- Standard PBR/HD SRP/LW SRP shader with 2K texture atlases.
Polycount
- About 5000 tris with all parts and weapons together.
Animation List
- 5 combo animations
- 2 normal attacks
- 4 dash animations
- Defend, Defend Hit
- Die, Die Recover
- Dizzy
- Equipment Change
- Get Hit
- Idle
- 4 Jump animations
- Jump Attack
- Run, Sprint, Run Back, Roll
- Slide
- Victory
- 4 walk animations
- 3 climb animations
- Pick up, Potion drink, sleep
Dungeon Mason proudly presents you Modular RPG Heroes PBR pack. This light weight characters will be suitable for any of your game projects spanning from mobile to PC desktop, but especially good for mobile RPG and TPS and Top down action game development.
Asset version: 1.6
Download links for «Modular RPG Hero PBR (Unity3D)»: