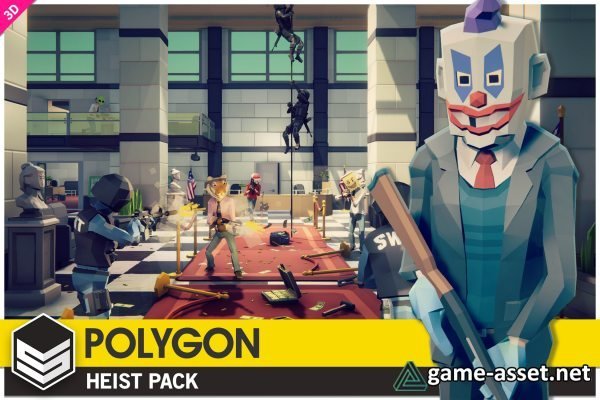 POLYGON Heist – Low Poly 3D Art by Synty – free download Unity asset.
Synty Studios Presents -
A low poly asset pack of characters, props, vehicles, weapons and environment assets to create an action packed polygonal style game.
Modular sections are easy to piece together in a variety of combinations.
(Includes a demo scene, Character poses indicative only)
A great addition to POLYGON - Gang Warfare
Key Features -
Assets (x251)
- Modular Interior and Exterior Bank Set, Modular Bank Vault Set, Modular Jewelry store Set, Modular Offices, Modular Bank Atrium, Interior + Exterior walls, Money Notes + Stacks, Jewellery, Vault Door, Deposit Boxes, Duffel Bags, ATM Machine, Bank Signs, Desks + Tables, Chairs + Couches, Plants, Tools, Ammo Packs, Medkits, Briefcases, Security camera, Metal Detectors, Flags, Tellers Desk, Panic Button, Documents, Second Floor + Balcony Rail
Characters (x9)
- SWAT Officer, Male FBI Agent, Female FBI Agent, Female in Overalls, Male in Overalls, Female in Suit, Male in Suit, Female in Work Shirt, Male in Work Shirt.
(Unique Masks x25)
(with Alternative Colors with 3 skin tone variations)
Vehicles (x3)
- SWAT Van, Police Helicopter, Police Car.
(with Alternative Variations)
Weapons (x9)
- Assault Rifles, Shotgun, Pistols, SMG, Sniper, Flashbang, Smoke Grenade
(with Alternative Variations)
- Heaps of awesome content included (see the layout screenshots for more details)
- Character setup to work with Mecanim (no animations included in this pack)
- Shaders work with the Scriptable render pipelines (HD + LW)
Asset version: 1.5