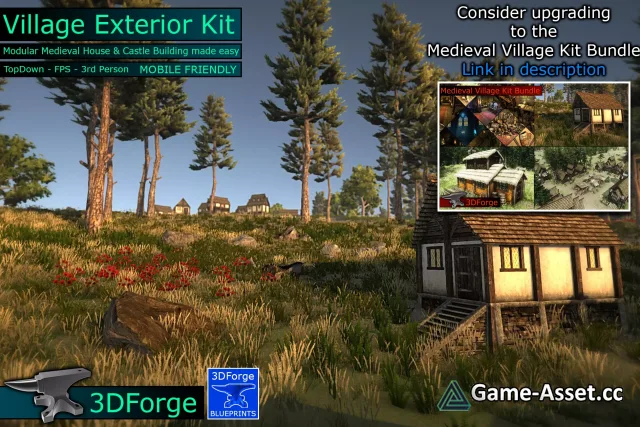 Download Unity Asset – Village Exteriors Kit – Latest Update 2022!
This modular kit is what you have been looking for to construct all the Medieval Fantasy Village & Town buildings you would ever need.
Taverns & Inns, Magic Shops, Town Halls, Guild Halls, Blacksmith Forges, General Stores, Jeweler Shops, Potion Shops, Herbalist, Banks, Armorer, Fletcher, Stables, Keeps, Barns, Store Rooms and many more buildings for your game.
- Compatible with Gaia Pro
- Compatible with GeNa
Key Features:
- Unity 2019.1.11f1 HDRP Materials included as a zipped package:
Used Unity Material Conversion Tools to convert materials to HDRP
- Unity 2018 Materials included: VillageExteriorsKit_LW_SRP_3.0.unitypackage
- 4790 Meshes & 4906 Prefabs
- Buildings uses 1 X 4096 texture map
- Diffuse, Normal & AO maps
- Works with FREE BLUEPRINTS
- 90 Pre-done buildings to start you with
- 276 more FREE BLUEPRINTS buildings
- 6 Wall texture sets:
Plaster01 - New plaster
Plaster02 - Old Plaster
Stone01 - Light Stone
Stone02 - Dark Stone
Wood01 - Horizontal planks
Wood02 - Vertical planks
- ALL 6 Wall texture tilable set
- 12 Roof styles:
6 x Wooden roof styles
5 x Slate roof styles
1 x Thatch roof style
- T , L & Cross shaped buildings:
Wooden frame templates
Wooden roof modules
Slate roof modules
- 4 Window choices:
Green opaque
Yellow opaque
No-Glass, frames only
See through glass openable windows
Includes template to make custom designs
- 18 Tileable ground textures:
Diffuse, Normals & AO
Rock x 1
Earth x 3
Grasses x 4
Cobble Stone/Paving x 5
Snow x 2
Wooden planks x 3
- Modular Stone Plinth System:
Building placement on uneven terrain
Underground basements
Underground tunnel system
2 Plinth texture sets
- Modular City Walls:
Stone Walls
Square & Round Towers
- Modular Castles prefabs:
Stone Castle Walls
Square & Round Towers
Several Parapet sets
Wall Snap-On Details
- Modular Cathedral prefabs:
Stone Castle Walls
Several Buttress sets
Stained-Glass Windows
- Modular Bridges:
Modular Wooden Bridges
Modular Stone Bridges
- Modular Wooden Decks:
Wooden walkways at docks
Wooden stairs for walkways
Wooden plinths for suspended houses
(swamps, harbors, waterfront...)
- Modular Balconies:
- 27 Modular Fence sets:
Broken
Fixed
Gates
- Watch Towers
and many many more ...
Asset version: 1.9.6
Download links for «Village Exteriors Kit»: