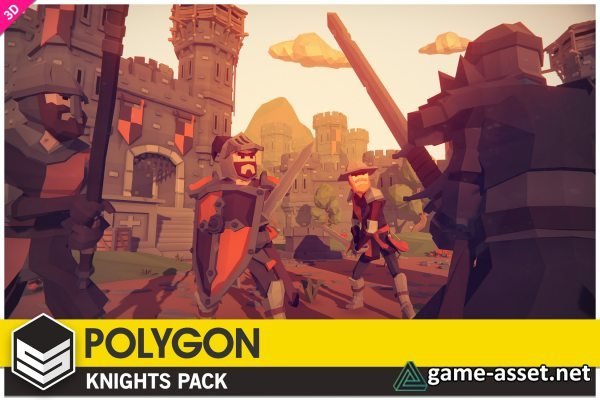 POLYGON Knights - Low Poly 3D Art by Synty - download Unity asset for free!
Synty Studios Presents -
A low poly asset pack of characters, buildings, props, items and environment assets to create a fantasy based polygonal style game.
Modular sections are easy to piece together in a variety of combinations.
(Includes a demo scene, Character poses indicative only)
Key Features -
Assets (x204)
- Regular Trees, Modular House pieces, Modular Church pieces, Modular Castle pieces, Flowers, Ground mound sections, Mountains, Modular Cobble Stone path pieces, Modular Stone path pieces, Modular Stone Tile path pieces, Modular Canal pieces, Plants, Weapons, Shields, Well, Bridge, Rock Cliff, Metal Crate, Hay Cart, Empty Hay Cart.
(with Alternative Colors)
Characters (x5)
- Knight 01, Knight 02, Knight 03, Soldier 01, Soldier 02.
(with Alternative Army Colors)
- Winter versions of most assets with custom snow
- Heaps of awesome content included (see the layout screenshots for more details)
- Character setup to work with Mecanim (no animations included in this pack)
- Shaders work with the Scriptable render pipelines (HD + LW)
Asset version: 1.2