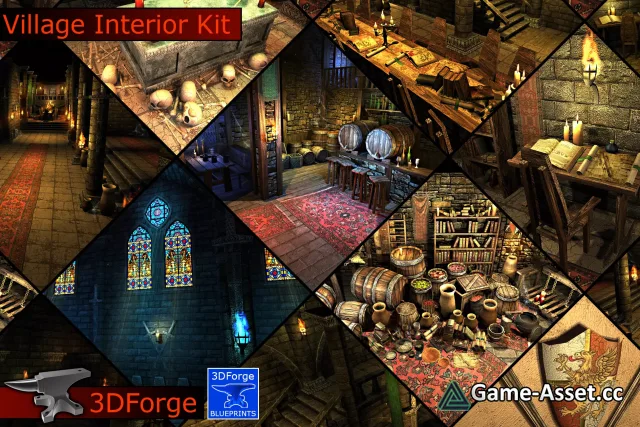 Download Unity Asset – Village Interiors Kit.
This modular kit is what you have been looking for to construct all the Medieval Fantasy Village & Town, Castles, Cathedrals, Taverns & Inns, Shops, Catacombs, Crypts, Tomb & Temple Interiors for your new game.
Package contains 2488 meshes & 2826 Prefabs with all of them light map ready and 81 Particle Effect Prefabs
The package was developed for Top Down, FPS as well as 3rd person style game, both Desktop and Mobile.
Build your own
Villager Houses - Magic Shop - General Store
Cathedrals - Temples - Shrines - Castles
Tombs - Crypts - Catacombs
Fish Monger - Warehouses - Basements
Churches - Shrines - Thief's Hideout
Jails - Inns & Taverns - Libraries - City Hall
Crafting Hall - Auction House - Guild Halls
Blacksmith's Forge - Barracks
or use any of the 24 included ready to use Demo Scenes.
Asset version: 1.9.6
Download links for «Village Interiors Kit»: