HQ Air Ducts Kit&nbspv1.2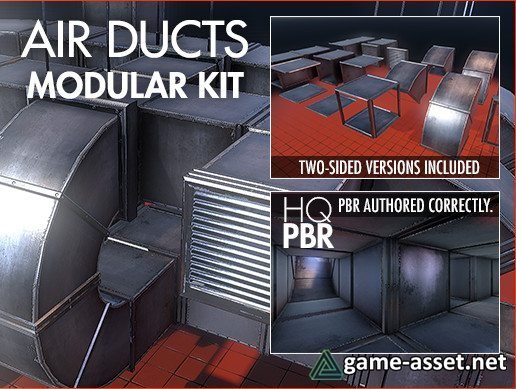 Download Unity Asset – HQ Air Ducts Kit.
This kit is ideal for any Unity 5 project which has a need for a high quality (low poly) ventilation system. Kit includes 14 game-ready prefabs to construct the vent system you've been dreaming about since 007 Goldeneye on N64!
Kit Includes:
Demo Scene (Pictured)
14 Game Ready Prefabs
Single-Sided or Double-Sided Vent Shafts
1 Shared Material (Unity 5 Standard Shader)
1024x1024 Albedo Map
1024x1024 Normal Map
1024x1024 Pack Map*
*Metalness/Occlusion/Smoothness are packed into a single RGBA TIFF for maximum efficiency and memory overhead!
Asset version: 1.2
Download links for «HQ Air Ducts Kit»:

Rating: