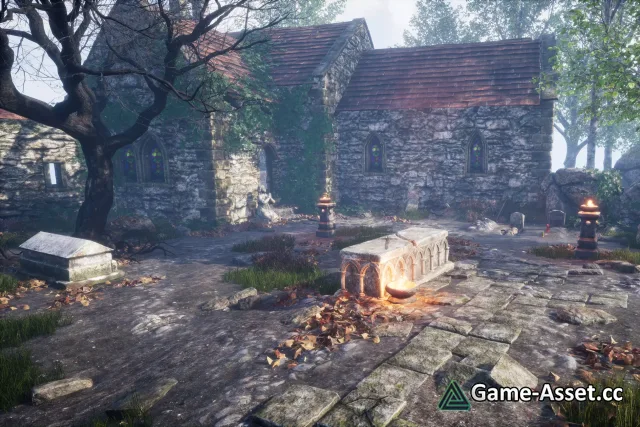 Download Unity Asset – PBR Graveyard and Nature Set 2 (Latest release 2022)
This pack contains extremely huge amount (over 2000) of modular, PBR, sculpted, and photoscanned assets. You could build with them: cemetery, interiors, nature background. All assets are high-quality optimised and atlased models with 3-4 LODs.
Pack contain:
- 350 prefabs, (like in overview screenshots)
- 217 models (646 meshes with LODs),
- 329 textures (over 1000 maps),
wall/ floor shader (specular and metalic version which support snow or moss cover). This shader will quarantee perfect texture and uv fit at your building, you dont have to carry about it anymore.
foliage trials from our other assets
- particles such as falling leaves, fog, fire,
- overview scene,
-big demo scene from screens in Standard, HD,URP, versions,
-big demo from video is NOT included,
In pack you will find modular elements for: walls, windows, doors, tombstones, graves, lightsources, candles, altars, figurines, particles, grass, ground textures, bushes, trees, dread trees, sarcophags, rocks, stones, roads, paths, stairs, planks, roofs, coffins, statues, pickaxes, shovels, ivy, wheels, rubbish, columns, skulls, roots, chains, torches, leaves,trees
Textures atlases are 2048x2048 up to 4096x4096. Each material contains: Albedo (Diffuse), Specular or Metallic, Normal Map, Occlusion, also most of them use Detail Masks, Detail Albedo and Normal Map
Asset version: 3.6
Download links for «PBR Graveyard and Nature Set 2»: