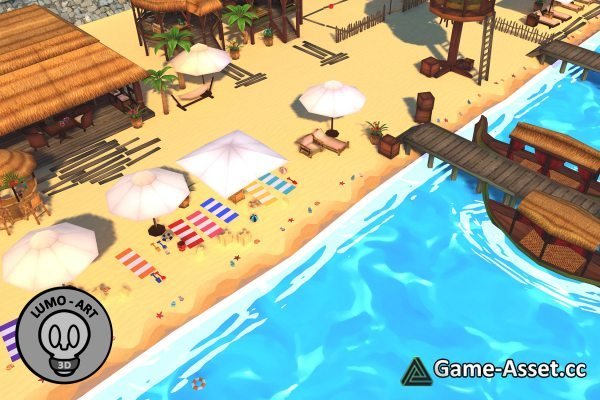 Summer Beach Cartoon Pack – VR/Mobile – free download Unity asset.
Get yourself ready with this summer themed pack ! This pack contains cartoons assets to make a beautiful beach.
Compatible with all versions of Unity (From unity 4 to unity 2019) !
One rich detailed scenes are included : One daylight scene and one night version of the scene.
Every asset is optimized, and there is more than 250 prefabs! There are four textures (without FX) : One sand texture / one water shore texture / only two texture for ALL the props.
Every Model is optimized :
-Huts (500/1000 tris)
-Furniture (90/1000 tris)
-Small props (30/200 tris)
-Plants (200/700 tris)
This pack contains :
- Two PC demo scenes!
- One kit to do modular hut with :
- One roof corner
- One roof side
- Three roof tops
- Three ground planks
- One fence and one pillar (and merged prefab)
- One Sand ground and water layers with animation
-Docks/Houses/Shops
-storefront props (towels, inflatable bed/boats, postcards, clothes, surfboards, etc.)
- Six huts
- One restaurant
- One island
- One lighthouse
- Three decks
- Two boats
- Two umbrellas
- One bed
- Three armchairs
- One bar
- Two palmtrees
- Seven chairs
- Three screens
- One shelf
- Two sinks
- Four sofas
- One night stand
- One stool
- Two sunbed
- Eight tables/low tables
- One hammock
- One beach net
- Two mirrors
- Six fruits
- Three bottles
- Seven cocktails
- One crate
- One fence
- Three flower decoration
- Thirteen ice creams
- One ice cream box & ice cream holder
- Six plants and flower pots
- Three planks
- Three rubbering
- Three sandcastle
- Four seashell
- Two torches
- Nine towels
- Twelve toys
- One trash can
- Six balls
Asset version: 5