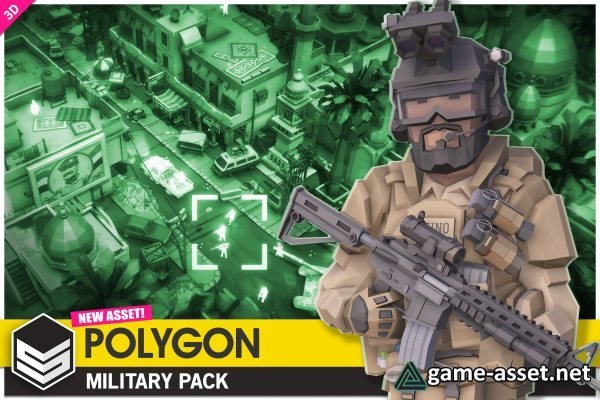 POLYGON – Military Pack – download Unity asset
Synty Studios™ presents one our most ambitious packs!
POLYGON Military
An absolutely massive low poly asset pack to build your dream game! No need to scour the store looking for packs that match, this is an extremely comprehensive asset pack for all your military needs.
Modular sections are easy to piece together in a variety of combinations.
OVER 1500 Detailed prefabs are included with this pack.
◼ Key Features ◼
- Fully Modular Weapon System
- Super Customizable Characters
- Desert Themed Buildings and Environments
- Buildings have enter-able Interiors!
- Full Military Arsenal!
- Includes a MASSIVE demo scene - (Character poses indicative only)
◼ Assets ◼
Characters (x23)
- Bomb suit Male, Civilian Female 01, Civilian Female 02, Civilian Male 01, Civilian Male 02, Contractor Female 01, Contractor Male 01, Contractor Male 02, Ghillie suit Male, Insurgent Female 01, Insurgent Female 02, Insurgent Male 01, Insurgent Male 02, Insurgent Male 03, Insurgent Male 04, Insurgent Male 05, Leader, Pilot Female 01, Pilot Male 01, Soldier Female 01, Soldier Female 02, Soldier Male 01, Soldier Male 02.
- Plus x10 Soldier Preset Characters
Character Attachments (x169)
- Backpacks, Beards, Hair, Hats, Helmets, Pouches, Weapon Accessories, etc.
Vehicles (x27)
- Tanks, APCs, Helicopters, Jets, Trucks, Vans, Cars, Motorbike etc
Vehicle Attachments (x56 )
- Aerials, Cloth, Containers, Canopies, Armor, Lights, Flares, etc
Weapons (x20)
- Pistols, Shotgun, LMGs, Rifles, ARs, Rocket Launchers, Knives, Grenades/Explosives etc
Weapon Attachments (x84)Weapons (x20)
Bi-pods, Flashlights, Fore-grips, Muzzle Breaks, Suppressors, Rails, Under-barrels, Scopes, Cross-hairs, etc
Modular Weapon Pieces (x92)
- Fully modular weapon parts including Barrels, Bodies, Grips, Hand-guards, Handles, Iron-sights, Magazines, Rails, Stocks, Triggers, etc
Modular Weapon Presets (x14)
- Heavies, AR's, SMG's, and Snipers
Buildings, with interiors (x197)
- Shops, Village Houses, Doors, Ruins, Monuments, Tents, Barracks. Hangars, Guard Towers, Oil Rigs, Pipelines etc
Environment (x114)
- Bushes, Cacti, Grasses, Ferns, Flowers, Trees, Roads (Dirt and Paved), Grounds, Sand Dunes, Pebbles, Rocks, Mountains, Ruins, Helipad, Runway, Sidewalks, etc
Props (x626)
- Aircons, Ammo, Antenna, Barrels, Barriers, Baskets, Beds, Blood pools, Books, Boxes/Crates, IEDs/Explosives, Carts, Chairs, Tables, Shop Items, Pipes, Electronics, Fences/Walls, Gym Equipment, IEDs, Lights/Lamps, Money Stacks, Plates/Pots, Powerboxes/Powerlines, Rubbish/Debris, Sacks, Satellite Dishes, Statues, Wardrobes/Lockers, Water Tanks, Missile/Launchers, Radios, Radar, Military Control Rooms, Oil Pipelines/Tanks/Pumps, Rugs, Signs, Posters, Flags, etc
Items (x39)
- Battery, Binoculars, Book, Bullets, Cans, Canteen, Cigarette, Clipboard, Crowbar, Earmuffs, Masks, Goggles, Laptop, Food, Pencil, Pouches, Sunglasses, Tape, Radios, etc
FX and Decals (x31)
Bullet Hit Decals, Blood Splatter, Dusts, Smokes, Fires, Gunshots, Explosions, Jet Booster, etc
◼ Compatibility ◼
- Works in Unity 2017.4 and above
- Support Universal Render Pipeline (URP) - URP Guide Here
- Characters are setup to work with Mecanim (no animations included in this pack)
Asset version: 1.02
Download links for «POLYGON Military - Low Poly 3D Art by Synty»: