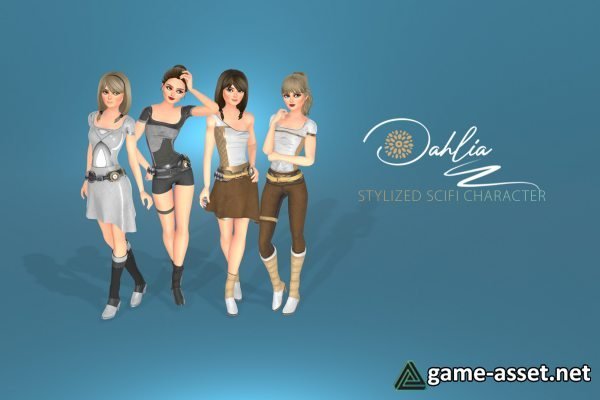 Dahlia Hart: Stylized Sci-Fi Character – download Unity asset
Dahlia Hart is a mecanim-ready sci-fi character and she's waiting to be part of your stylized, toonish projects.
Dahlia's aesthetic is what I think of as comfortable sci-fi. The hard surfaces are there, but play a secondary role to soft leathers and fabrics. She's a game-ready, rigged character and is full of features: Multiple outfits and hairstyles, facial expression/lip-sync blendshapes, rigged hair for use with physics assets, and a vast selection of textures and styles to customize to your preference.
Technical details
Three hair styles (Hairstyles 2 and 3 are rigged for animation or use with physics assets like dynamic bone)
Seven hair colors (black, blond, brown, pink, blue, red, and silver)
Four different outfits to choose from, with three texture styles per outfit
Nine eye colors
Blendshapes for basic emotions (smile, sad, angry, shock, thinking) and lip-sync compatible phomenes
Polycount: ~20K depending on hair/clothing combination.
NOTE: This version does not contain any animations, but the rig has been tested with several asset store animation packages, character controllers and Mixamo.
Asset version: 3.1