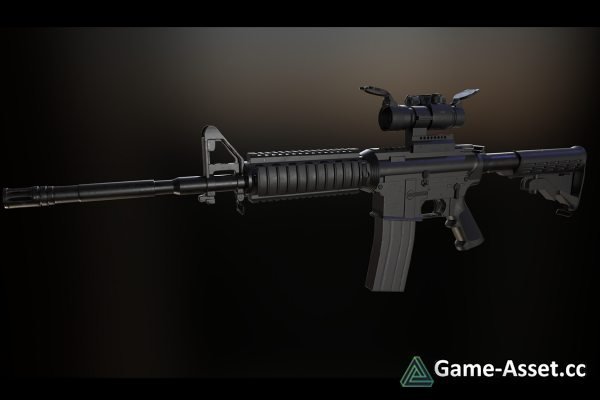 M4A1 Carbine - Gameready - free download asset for Unity!
M4A1 Carbine model modelled from high poly to low poly with baked maps.
Included in the pack is:
*M4A1 Carbine, all movable parts are detached for animations with origin in the correct location. One version without the rear sight for usage of optics
*Empty magazine
*Expanded shell casing
*Rail cover
*Vertical grip
*Aimpoint (2 mesh variants, one with lids, and one without)
The aimpoint has simple translucent lenses and red dot mapped to a plane inside the tube with a simple emission material.
The rifle has 4k textures, one with a real Colt brand, and one version with a fake brand.
Scope, rail cover and vertical grip has 2k textures
All materials are set up using the metallic/smoothness workflow. Specular maps are included for anyone preferring that.
Triangle Counts:
M4A1: 18,880 verts // 16,777 Triangles
Aimpoint: 8,395 verts // 7,649 Triangles
Rail cover: 1,320 verts // 786 Triangles
Vertical grip: 496 verts // 352 Triangles
Asset version: 1.0