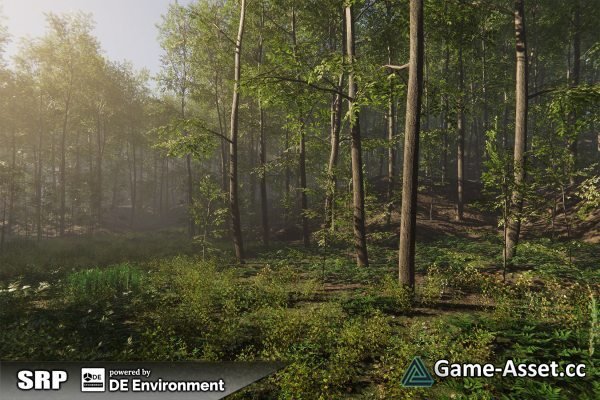 Download Unity Asset – Nature Package – Forest Environment (Latest Update 2022)
This package contains a set of 92 highly detailed prefabs: trees, bushes, grass and flowers.
With its help you can create beautiful Forest Environments.
Vegetation textures Resolution(4K,some 2K-1K)
-diffuse,gloss,normal,translucency.
Polygons Mesh Trees:1700 tris to 13000 tris
Polygons Mesh Bushes:130 tris to 4800 tris
Grass Flowers Mesh:240 tris to 3500 tris
Compatible with:
DE Environment ,Vegetation Studio
Please visit site DE Environment & check documentation for a more complete listing of all the advanced features.
This package contains:
Vegetation:
-9 MapleSpringTree
-9 ForestTrees
-16 Bushes
-12 Grass and flowers
-1 LeafDry
-1 LeafDryGroup
-8 ForestSticks
Autumn Vegetation:
-8 MapleAutumnTree
-10 ForestAutumnTrees
-11 AutumnBushes
-4 Autumn Grass and flowers
-1 Swamp Reed Dry
-11 Ground Textures(Diffuse,Normal)
-5 Autumn Ground Textures(Diffuse,Normal),Resolution:2K-4K
-12 Grass 2D-Textures
-2 3D Scanned Models:
RockForest,StumpRoot
-Demo Scenes:
Game Ready(ForestDay) 2X2km
DefaultSceneFor_HDRP
DefaultSceneFor_URP
For the demoscenes to work correctly, import assets into the project,
Use templates:
-3D With Extras (Preview)
-High Definition RP
-Universal Render Pipeline
Asset version: 1.5
Download links for «Nature Package - Forest Environment»: