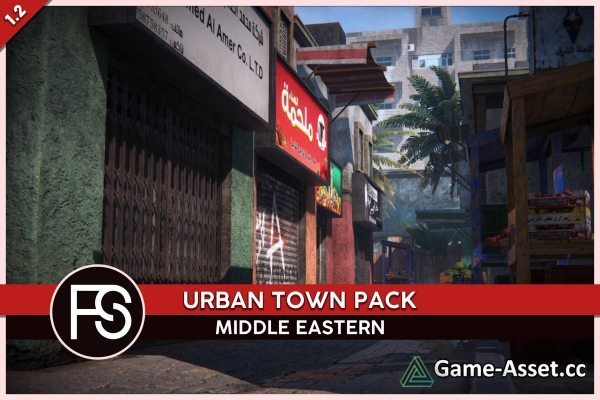 Urban Town Pack - Middle Eastern - download Unity asset.
The package now supports Universal Render pipeline.
Just download the package from the link bellow and import into project. Everything else should be taken care of.
Build highly detailed middle eastern town alleys and streets with buildings and props with this highly modular package.
Create the town with pre-made walls and floors, the streets with substances.
Bring your scene to life with procedurally and realistically textured props.
Walls and floors can be easily placed using Auto Snap (CTRL+L) . Ideal for first-person and Third person shooters.
Features:
- What is in the demo is in the package.
- 174 Unique modular prefabs.
- 180 Unique props.
- 25-50cm Grid spacing for realistic combinations of buildings.
- 46 deferent swappable materials for walls and floors.
- Realistic Textures with vertex color enabled materials.
- Limitless variations with smart tint shaders (ex: Painted wood).
- 360 Sky.
- 6 Color correction profiles.
- Very Realistic foliage.
- Day and Night Example scenes included.
- Prefabs scene included.
Note:
To yield best results use Linear Color Space and Deferred Rendering Path.
Asset version: 1.2