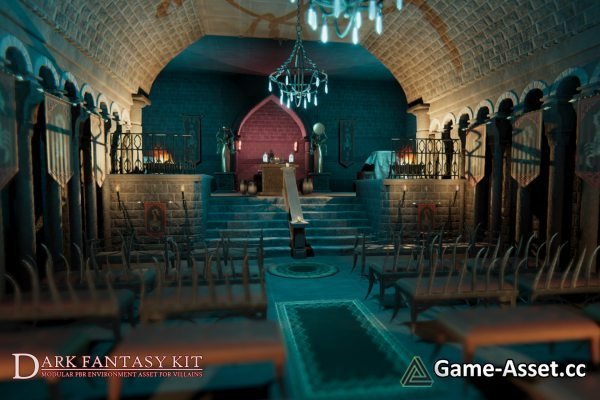 Download Unity Asset – Dark Fantasy Kit is a unique, menacing, dark environment kit, which contains interior and exterior elements.
Perfect dressing for vampires, evil overlords, and dark elves.
The asset contains 550+ prefabs and supports modular workflow.
HIGHLIGHTS
Unique style in a combination of gothic and Moroccan architecture.
Modular workflow with 550+ prefabs
Prop models with many color and style variants
Scripted doors, windows, and chests
3 Demo Scenes
Stained Glass Shader (built-in only)
Works with Built-In, URP, HDRP
Unique style for evil overlords
For evil overlords who gain their riches off the poor peasant's sweat and blood, who display their authority and oppression in forms of not just military power or deadly magic, but with their environment.
550+ prefabs for modular workflow
214 architectural elements (walls, floors, stairs, pillars, arches, roofs, and beams).
43 furniture (chairs, beds, cupboards, desks, drawers, shelves). The drawers and doors are moveable and openable.
66 decorations (flags, carpets, curtains, tapestry, valance, tablecloth, paintings, and sculptures)
25 props (books)
89 containers (chests, crates, and vases)
52 different light sources (crystals, lamps, candles, and braziers)
10 doors, gates, and windows.
Demo Scenes:
We included three demo scenes which you can also test right now, before buying the asset: Download and try
Temple of the Scorpion God (FPS)
Evil Mastermind Manor (FPS)
Chamber of the Dark Overlord (Top-Down)
Manually tested in the following Unity Versions
2019 LTS, 2020 LTS, 2021.1.7f both in Built-In, URP, and HDRP
Note: Demo Scenes are created in Built-In. Lighting works differently in URP and HDRP.
Asset version: 1.4.2