Complete Third Person Character Controller&nbspv1.0.0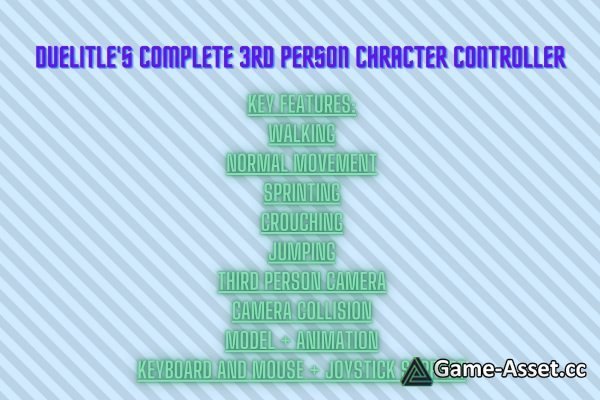 Complete Third Person Character Controller – download Unity asset.
Simple. Working. Smooth. This Third Person Character Controller will get your game started in a flash.
Render pipeline compatibility
The Built-in Render Pipeline is Unity's default render pipeline. It is a general-purpose render pipeline that has limited options for customization. The Universal Render Pipeline (URP) is a Scriptable Render Pipeline that is quick and easy to customize, and lets you create optimized graphics across a wide range of platforms. The High Definition Render Pipeline (HDRP) is a Scriptable Render Pipeline that lets you create cutting-edge, high-fidelity graphics on high-end platforms.
Unity Version
Built-in
URP
HDRP
2021.2.0b1
Not compatible
Compatible
Not compatible
Description
WORKS WITH UNITY 2018 ONWARDS.
Perfect character controller for any Third Person game, such as Fantasy, Open World, RPG, etc.
Includes every basic mechanic (Crouch, Jump, Sprint).
All fields are customizable.
This package is very easy to build upon as the script is very simple yet perfectly functioning.
View the technical details to learn about all the features of the package.
Asset version: 1.0.0
Rating: