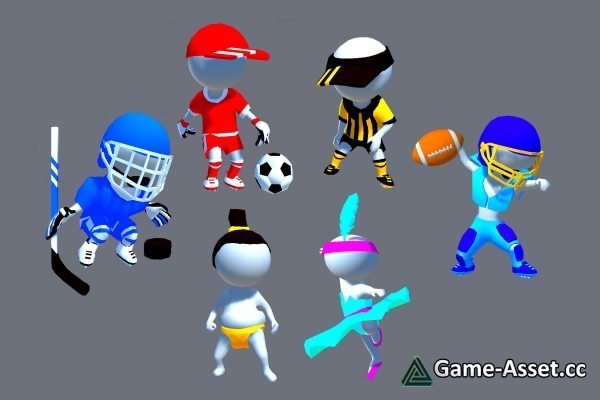 Hyper Casual Characters Stickman sphere head skins vol .1 sports – free download Unity asset.
Low poly stickman models for your hyper casual game.
Skins for stickman sphere head:
Animations are NOT included
Stickman American footbal: 3906 verts, 4818 tris
American Football_ball: 300 verts, 344 tris
Stickman Ballerina: 2450 verts ,3312 tris
Stickman Football:3570 verts,4660 tris
Stickman Football ball: 304 verts, 476 tris
Stickman Hockey player:4701 verts , 5840 tris
Stickman Hockey player hockey puck: 48 verts, 92 tris
Stickman Hockey player hockey stick: 128 verts, 124 tris
Stickman Sumoist: 1539 verts, 2578 tris
Stickman Referee: 3238 verts, 3984 tris
+ bonus
Stickman Football_01: 3677 verts, 4724 tris
Stickman Referee_01: 2689 verts, 3320 tris
Features:
+The stickman has attached skeleton.
+The colors are applied to the materials. You can colorise your clothes of your choice.
+Each item of clothing is a separate object.
Model supports humanoid animations from Mixamo.com and assetstore.
Animations for demonstration in the video were taken from Mixamo.com. Animations can be downloaded from Mixamo.com for free.
Asset version: 1.0