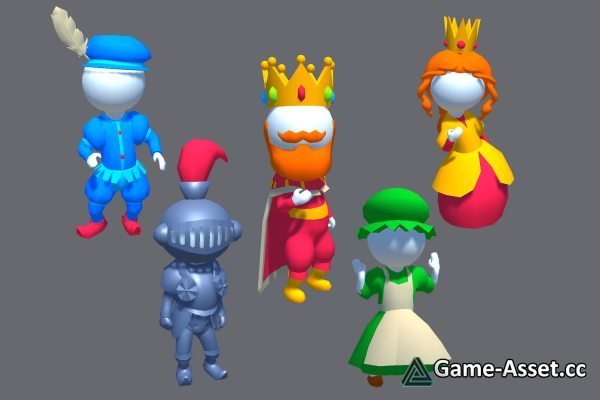 Hyper-Casual Characters Stickman sphere head skins vol.8 Kingdom – free download Unity asset.
Low poly stickman models for your hyper casual game.
Animations are NOT included
This animations can be downloaded for free from www.mixamo.com.
PLEASE LOOK THIS VIDEO HOW PROPERLY DOWNLOAD AND SETUP ANIMATION FROM MIXAMO!
Skins for stickman sphere head:
Stickman_King: 3743 verts, 4944 tris
Stickman_Messenger: 3383 verts, 4578 tris
Stickman_Queen: 3215 verts, 4594 tris
Sticman_Knight: 3931 verts, 4882 tris
Sticman_Maid: 2630 verts, 3526 tris
Features:
+The stickman has attached skeleton.
+The colors are applied to the materials. You can colorise your clothes of your choice.
+Each item of clothing is a separate object.
Model supports humanoid animations from Mixamo.com and assetstore.
Asset version: 1.0