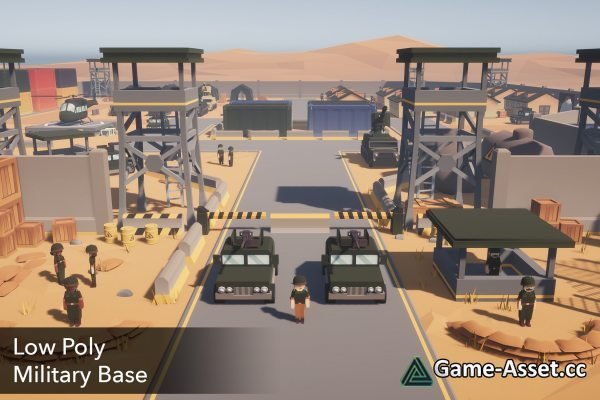 Low Poly Military Base – free download Unity asset.
A low poly asset pack for a complete military base, including vehicles, weapons, props, buildings and rigged characters. Includes a demo scene of a full military base.
Key Features
- Contains 116 prefabs to quickly create a full military scene. Optimized for performance using low poly counts and a shared color texture for reduced draw calls. Works with default, High Definition and Light Weight Render Pipeline.
Structures
- Containers, gas tanks, foundations, barracks, tents, hangar, watchtower, tilable wall set, tilable fence set
Vehicles
- Tanks, helicopters, boats, artillery, damaged tanks
Weapons
- Machine gun, pistol, shotgun, bazooka, grenade
Rigged Characters
- General, 2x male soldiers, 2x female soldiers
Props
- Explosive barrels, aiming targets, barriers, sandbags, boxes, wooden shelves, bunkbed, wooden crats
Ground
- Tilable paved roads set, tilable dirt roads set, tilable tracks in the sand
Environment
- Sandhills, grass, rocks, cliffs
NOTE: Animations shown in the trailer are not included but can be downloaded for free on Mixamo.
Asset version: 1.0
Download links for «Low Poly Military Base»: