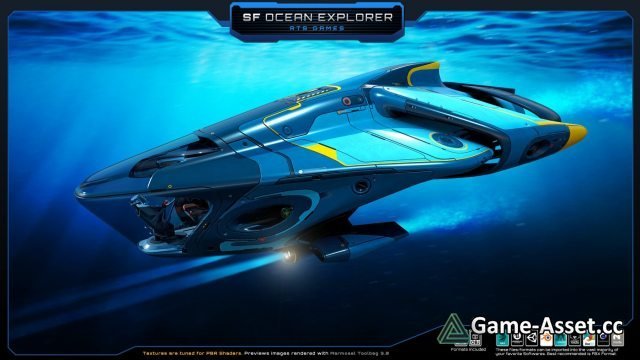 Download Unity Asset – SciFi – Ocean Explorer.
SF - Ocean Explorer Vehicle, Set of one Explorer / Futuristic explorer of exoplanets seas, or Jupiter moon Europa (FBX model). Cockpit as separated parts as, Seat, Joystick, pedals, included Torpedos / cameras, check previews and Video for details. No animated parts, LOD or FX.
Polys/21.875 - Verts/22.301 - Tris/42.462 with no duplicated parts.
Included:
_1 Model in Blender v2.82
_1 Model in .FBX format (multi format) with no linked elements, this is because not all softwares such as Blender, Maya, 3D Max, Lightwave, Unity, Unreal and others do not interpret the linked elements in the same way, you will have to link these elements with your preferred software.
_1 Model in .FBX format With Linked elements (multi format).
_1 Model in .OBJ format (multi format).
_1 Model in .3DS format.
These files/format can be imported into the vast majority of your favorite Softwares (Best recommended is FBX Format): 3Ds MAX / Maya / Lightwave / Cinema 4D / Blender / Daz 3D / Sketchup / Unity / Unreal Engine, etc...
Download links for «SciFi - Ocean Explorer»: