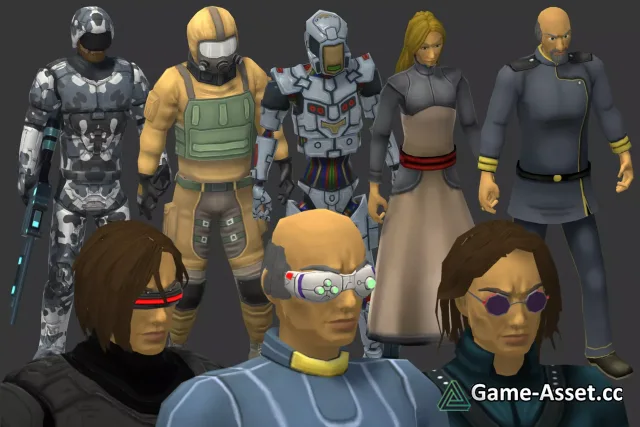 Customizable Characters - Sci-Fi Series - download Unity asset.
This asset offers a large variety of textured low poly clothes, armor, weapons and hair/beard styles to easily add character creation, equippable items and customizable characters and NPCs in your Sci-Fi RPG.
All the armor and clothes are rigged to the skeleton and designed to make different item combinations fit seamlessly together. A script is included to load and equip items by simply using the item ID.
• Frequent updates
• +100 items and icons with male and female variations
• 12 male and 12 female faces
• 18 Hair styles, 10 beard styles
• Custom skin color
• Custom eye color
• Custom mouth color
• Mobile friendly: Poly count 200-700 tris per item
• Model file type .FBX
• Texture resolution 1028 to 2048, .PNG files
• 10 Item slots: Head, Neck, Back, Body, Main-hand Weapon, Off-hand weapon, Hands (gloves), Legs, Feet, Accessories
• Possible to turn any character into a child
Asset version: 1.0
Download links for «Customizable Characters - Sci-Fi Series»: