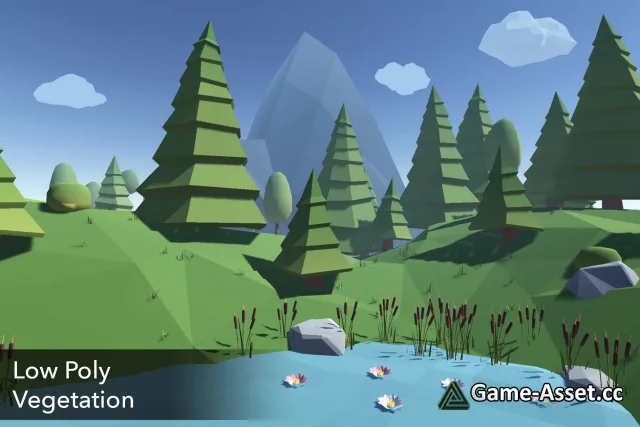 Download Unity Asset – Low Poly Vegetation & Forest Pack
A low poly asset pack to create beautiful forests environments, including both leaf and fir trees. All trees are provided in two versions, a standard, static unbroken one and a dynamic model including a separate model for the base of the trunk. With the dynamic model you can simulate broken trees! Included are environments for summer, winter and a dry, desert pack with cactuses and animal bones.
Key Features
- Contains 60 prefabs to quickly create a forest environment. Optimized for performance using low poly counts and a shared color texture for reduced draw calls. Works with default, High Definition and Light Weight Render Pipeline.
Clouds
- Clouds x3
Desert
- Bones x2, Cactus x3, Desert Mountain, Tumbleweed
Grass
- Grass x5, Winter Gras x5
Plants
- Reed, Water Flower (White, Pink)
Rocks
- Cliff, Rock x2
Trees (Breakable)
- Apple Tree, Bushy Tree x2, Large Fir Tree, Medium Fir Tree, Small Fir Tree, Large Leaf Tree, Medium Leaf Tree, Small Leaf Tree
Trees (Static)
Apple Tree, Bush, Bushy Tree x2, Large Fir Tree, Medium Fir Tree, Small Fir Tree, Large Leaf Tree, Medium Leaf Tree, Small Leaf Tree
Trees (Winter)
Bush, Bushy Tree, Large Fir Tree, Medium Fir Tree, Small Fir Tree
Asset version: 1.0
Download links for «Low Poly Vegetation & Forest Pack»: