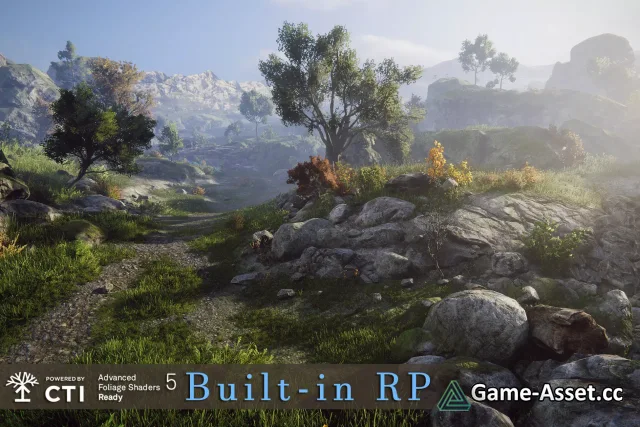 Download Unity Asset – Rocky Hills Environment – Mega Pack is a 3D art package with simple and fast foliage shader solutions for artists. Includes third-party tools.
High-quality, semi-realistic 3D environment art package for games and 3D applications version 4.0. Little to no photo source material as most textures are made using Substance Designer or hand-painted. Assets are well optimized as 4k atlases make it light for GPU and memory while prefabs contain LOD levels.
Compatibility
The main pipeline used is the Built-in Render Pipeline".
By purchasing this pack, you will get a free upgrade to the (SRP: URP + HDRP) version: Rocky Hills Environment - Mega Pack (SRP)
The vegetation contains and works with the third-party tools Custom tree importer (CTI) which is compatible with Advanced Foliage Shader. The custom tree importer shaders provide realistic-looking wind and foliage with minimum performance impact so there is a good possibility of use on lower-end platforms.
(TFS - Toby foliage shader) is a new lightweight, fast and simple shader for vegetation made in the Amplify Shader editor. Works in URP and HDRP. *Read more in the "releases" tab.
Features and version updates:
• Features
• PBR materials and 4k texture atlases, light for GPU and memory
• Unique cliff meshes with 4 LOD levels
• Modular boulders with 4 LOD levels
• 1227 prefabs total (optimized meshes, merge prefabs, and more)
• Over 500 models
• A variety of ground tiles for summer, fall, and winter
• Unique wood texture tiles
• Unique 4k tree bark texture with roots
• 20 particles
• 17 Amplify shaders
• Editable amplify shaders:
- Detailed Map Coverage Snow (detailed map + customizable animated sparkles, supports tessellation)
- Detailed Map Coverage Moss (detailed map + dry and healthy color, supports tessellation)
- Snow Foliage (simple shader for snow-covered plants)
- Simple Snow Triplanar
- Ice shader
- Running water shader
- Custom Standard (Tessellation)
- 3 New (TFS) foliage shaders: grass, bark, and leaves
• Mesh and ground splats including snow
• Summer, fall, and winter seasons for all assets
• 146 trees and 156 bushes
• 80 new ground plants
• New (TFS) plants, trees, and bushes (208 models)
• High-quality grass models with variations and wind including "terrain versions"
• All trees and plants have realistic wind and shading
• 6 Example scenes
Asset version: 4.0
Download links for «Rocky Hills Environment - Mega Pack»: