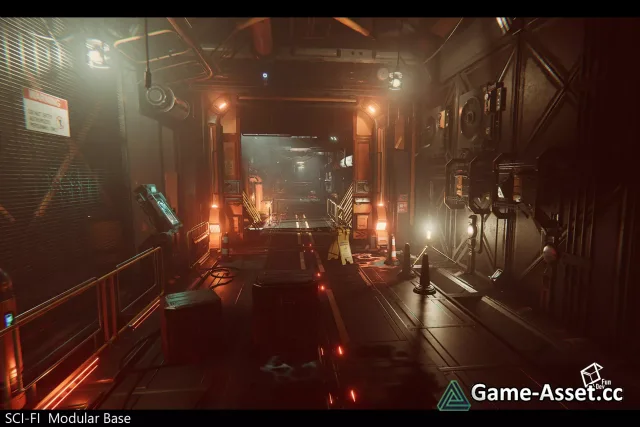 Download Unity Asset – Sci-Fi Modular Base
This Pack is all you need to build amazing Sci-fi interiors using many game ready prefabs to create your own original environment.
IMPORTANT:
After launching the scene you need to put the HD Render Pipeline Asset given in the package in the Graphics settings of the scene. Otherwise the scene will read the default setting from the created project. Do to this you need to go to Edit in the top menu and to the Project settings.Edit/Project Settings...Then click Graphics in the left menu.In Scriptable Render Pipeline Settings will be the default HDRP Asset which you need to switch to the one given in the package. Keep the window open and go to Asset/ SCI_FI_MODULAR/SCENES folder in the bottom menu. Drag and drop HDRenderPipelineAsset in the Scriptable Render Pipeline Settings in the Graphics menu.
396 high quality AAA prefab assets with 3 levels of details give you countless possibilities of arrangement. Supplied with construction modules like walls, floors, ceiling, door and props the pack allows to build many complex kinds of Sci-fi scenes.
Pack is suitable for the HDRP rendering pipeline. To make your life easier and to show you the potential of Sci-Fi Modular Base Pack we provide you with a showcase demo scene with animations and scripts included. As a special bonus in the demo scene you'll find interactive screens which trigger animated actions(cut scenes) like opening doors and starting the elevator system.
Monthly update and fixes guaranteed!
Pack contents:
- 396 high quality, game ready prefab assets
- 113 HDRP materials
- Modular parts work with default grid snapping
- 1 game ready demo scene
- 24 different innovative scripts
- HDRP built in pipeline ready to use
- 4 customizable shaders
- 4k resolution, high quality textures
- Post processing settings + particle effects
- sound effects
- Fully functional demo scene with animations and scripts included
Render pipeline:
High Definition Render Pipeline Version 10.2.2
4k channel packed texture maps:
- Base color (Diffuse, Opacity)
- Map Mask ( Metallic, AO, Detail Mask,
Smoothness)
- Normal map
Asset version: 1.0
Download links for «Sci-Fi Modular Base»: