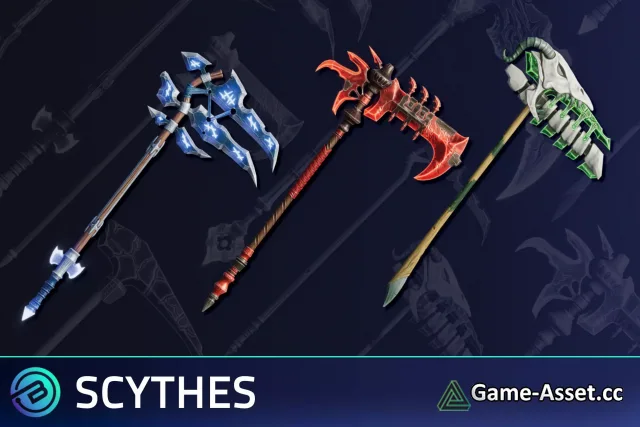 Download Unity Asset: Stylized Scythes - RPG Weapons
Do you want to create your own RPG?
RPG Builder
is the best RPG framework for Unity, no coding is needed!
List of Weapon Types included in the Bundles:
Axes, Swords, Shields, Maces, Hammers, Bows, Crossbows, Staves, Spellbooks, Wands, Scythes, Polearms, Spears, Daggers, Claws, Gauntlets, Fist Weapons, Muskets, Pistols
Each weapon has 5 color variation
Medium & Epic weapons all have optional emission textures for your legendary loot!
This pack includes:
5x Evolving Scythes
Evolving Weapons have a version of each: Basic, Medium & Epic
For a total of:
15 Meshes
75 Prefabs
Each texture is 2048x2048
Tri count from 484 to 5310
Asset version: 1.0
Download links for «Stylized Scythes - RPG Weapons»: