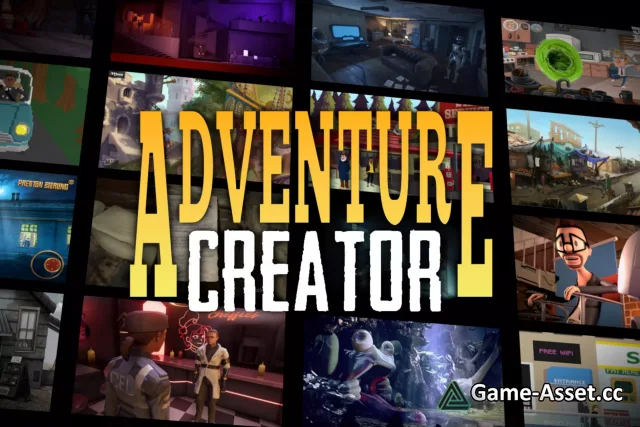 Download Unity Asset – Adventure Creator (Latest version 2022)
Adventure Creator is a fully-featured toolkit that has all you need to make your own adventure game. From 2D point-and-clickers like Monkey Island, to cinematic epics like Telltale's The Walking Dead, AC can make it happen.
Designed for developers of all backgrounds, its visual-scripting interface and intuitive design keeps it artist-friendly - but its powerful event system and documented API has it cater to seasoned programmers too.
● Easy and fun to use
AC provides an intuitive workflow that's accessible to Unity newcomers and professionals alike. Place down Hotspots for interactivity, and NavMeshes for walkable areas. Import your graphics and animation, and you can have a playable game up and running in minutes.
● 2D, 2.5D and 3D
2D, point-and-click, third-person, first-person - or a mix of each. Play your game with a one-click interface, verb-bar, or a verb coin. Flexibility on perspective, design and interface gives you creative control, so that you can make the game you want to play.
● Build with Actions
Coding is optional. Use the robust, artist-friendly ActionList system to build puzzles, interactions and cutscenes visually. Choose from over a hundred Action types - each geared towards adventure game development - or write and plug in your own.
● Focused on adventures
Designed specifically for traditional adventure games, AC's streamlined interface puts all the genre's trademarks front and centre. Interactions, characters, inventory, dialogue, conversations, logic, localisation, QTEs, saving and loading and more are just a few clicks away.
● Multi-platform
Make games for PC, Mac, WebGL, as well as iOS and Android phones. Play them with a mouse and keyboard, a gamepad, or on a touch-screen - the interface will adapt with the control scheme. Consoles can be built to with custom scripting - see the FAQ.
● Language support
Reach an international audience with AC's localisation tools. All text and speech can be exported for translators, script sheets can be generated for voice actors, and each language can have their own audio and lipsync files.
● Timeline integration
New tracks for Timeline make it simple to incorporate AC's features into cinematic sequences. Animate characters, play speech and cut cameras - in 2D and 3D scenes alike.
● Script extensions
Need to incorporate other gameplay or assets, or tailor the core code to suit specific needs? Source is included, and the API documented. Use event hooks to extend functionality, or choose from a variety of example templates on the Downloads page.
● Plays well with others
Works with a suite of popular assets, including Playmaker, Ultimate Character Controller, LipSync, Dialogue System, Rewired, RT-Voice and TextMesh Pro. Find more integrations, contributed by the community, on the Community Wiki.
Asset version: 1.75.6
Download links for «Adventure Creator»: