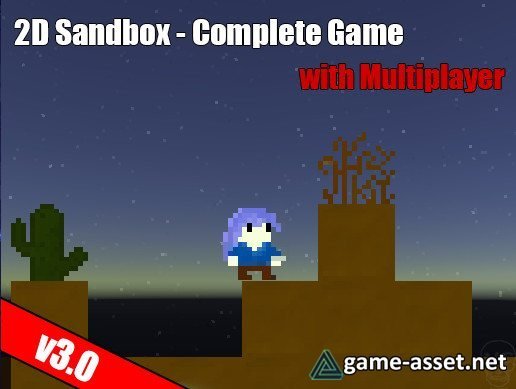 [2D SURVIVAL SANDBOX GAME]
============================
New Multiplayer Version 3.0! Mobile version in next update! Have you ever had a dream to create real 2D Sandbox game?
I love to say : Welcome!
With this package you can create fully functional 2D Sandbox Survival Game. Begginer skills required, no programming, everything is as easy as it's possible ;)
Package Included:
-Multiplayer PUN! Up to 4 players in one room
-Single-player inside
-Only few scenes!
-Map Editor/Creator
-More than 50 sprites and more in updates!
-No need to script anything! + guides/youtube tutorials
-Destroy and place blocks as a player
-Pickups blocks and choose them from inventory
-Recipes book, discover new blocks!
-Crafting, Enemies, Life
-Day and Night system!
-Working Save and Load game!
-Character System
-Working AI and animals/monsters
-Innovative fight system using light and gravity
-TOOLS, block's life, clothes!
-and many many more...
Everything you need to create 2D Sandbox Survival game is in one package. Tutorials to understand everything in project
That project will definitely help you to fulfill your dreams about own 2D Sandbox game
Download links for «2D Survival Sandbox Multiplayer»: