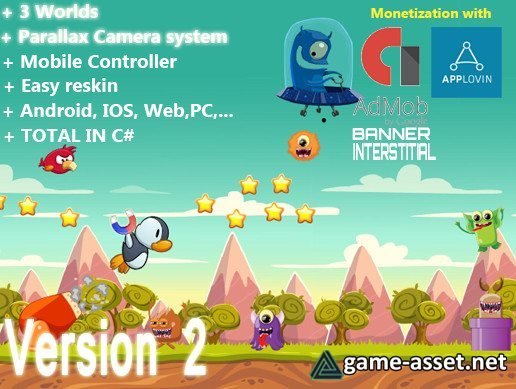 Peguin Adventure - Complete Game Kit - download Unity asset!
PEGUIN ADVENTURE is a complete game and ready to build and publish.
NEW VERSION 2.1
Add checkpoint
Fixed collection items and more
OPTIMIZED FOR MOBILE
READY TO BUILD AND PUBLISH
HOW TO PLAY
Let's take adventure and help a little cute Penguin against the alien monsters.
Simple gameplay, nice graphic, funny monsters and sound, very funny and very interesting, you can help him slide, jump, fire or even fly with a cannon or rocket, WOW .
It is compatible with mobile as well as standalone and webplayer..
Very Fun! Game for everybody!
Feature:
+ 3 Worlds and levels already
+ Monetization with Admob, Applovin
+ Parallax Camera system
+ Checkpoint
+ Nice sound and graphics
+ Support touch controller on device
+ Make a level so quick and easy
+ Easy to reskin, easy to play, easy to understand, total in c#, perfect to learn.
+ Works on all platforms, PC, Mac, iOS, Android, etc
Asset version: 2.2.7