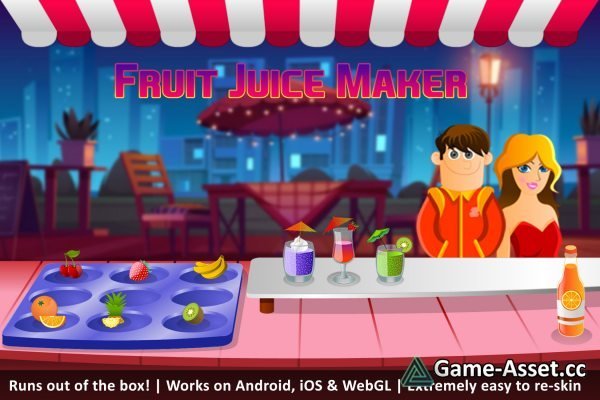 Fruit Juice Maker, Complete Time Management Game Kit – free download Unity asset.
Did you ever dream of owning and managing a small fruit juice shop? Do you like to serve your customers with delicious juices and smoothies? Do you want to make a new game of your own which you can add new customers, add new juices each with their own recipes and creating new levels each with different missions and properties? Well, Fruit Juice Maker game kit is an easy to use and learn project that can greatly speed up your prototypes of the same type, and can be used as a strong base for further development and experiments. It has all nuts and bolts to build a fully functional game.
Features:
- This is a complete game template with Menu, Shop, Level-Selection, Pause, Career and Game scenes.
- AdMob ad sdk is integrated to help you have a better monetization strategy for your investment.
- Unlimited number of levels & missions.
- Easy to monetize, perfect to learn.
- Fully commented source code in C#
- Supports Android, iOS, Windows Phone and Standalone platforms.
- Can be used as a base to prototype similar cooking/fast-food games
- Simple and highly addictive time-management game-play
- Can be used to build a 2D or a 3D game at no time!
- Mobile friendly (with awesome performance!)
- Extremely flexible to re-skin and re-master
Asset version: 1.4.3