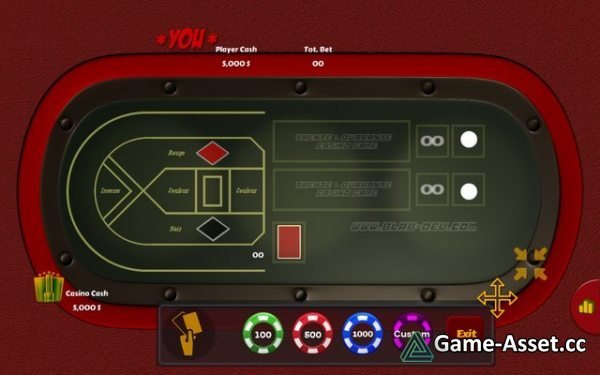 Trente Et Quarante – free download Unity asset.
(Thirty and Forty), also called Rouge et Noir (Red and Black), is a 17th-century gambling card game of French origin played with cards and a special table.
High quality casino cards game
The game consists of the dealer dealing two rows of cards face up, the first (upper) row called noir and the second (lower) row called rouge.
There are only four chances at trente et quarante:
Rouge or noir, known as the grand tableau', couleur or inverse, known as the petit tableau.
Rouge and noir bets are concerned with which row wins, and the couleur and inverse bets with whether the first card in the winning row is the same (coleur) or opposite (inverse) to the color of the row.
Cards for each row are dealt until its total exceeds thirty (trente).
The row whose total is closest to thirty is the winning row.
The player plays against the casino.
The first one runs out of money loses.
Main Features:
- Great chips and card moving system
- Great sounds and voice effect
- Game data recording system and game result stats
- Fast bet value settings and custom value settings
- Clean C# code
- No DLL plugin etc…
- Very easy and fast to customise
Asset version: 1.1