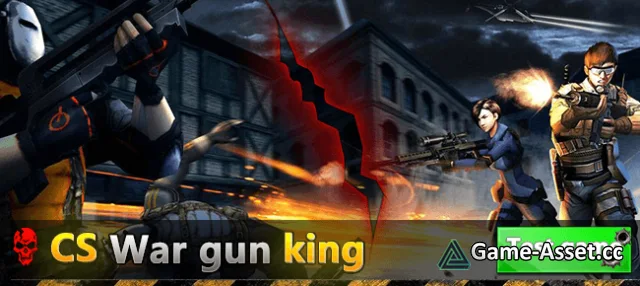 Download Full Unity GameTemplate – CS War gun king FPS project.
The game is produced with the unity3d engine and presented to the players in a first-person real-life perspective. Clear city streets, cool gun weapons, and powerful explosion effects all show the vastness and cruelty of the war. The battlefield is always wisdom. Test with courage. The game restores the most realistic war scenes, 360-degree panoramic experience of the baptism of the bullets, struggles with death and fear, and experiences a hearty modern war in the blood and passion.
The project using Unity Unity 2017,It's very easy to get started, you can edit your own level design unique levels!
Features
1. Restore the classic real battlefield – classic FPS shootout gameplay, restore the most realistic 3D battlefield, experience the fierce battle of the bullets
2. Enrich the ultimate weapon match – dozens of weapons combination to create the strongest individual
3. Original Boss hunting mode – enrich the Boss design, kill the battlefield Boss alone, turn the tide
– More than 20 different firearms –
– 40 difficult difficulty levels for 40 normal difficulty levels-
-4 kinds of difficult bosses –
-Dozens of different npc-
-Various types of gift packages-
-Mall system, firearms system, equipment system, character system, prop system, currency system
Asset version: 2017.4.3f1
Download links for «CS War gun king FPS project»: