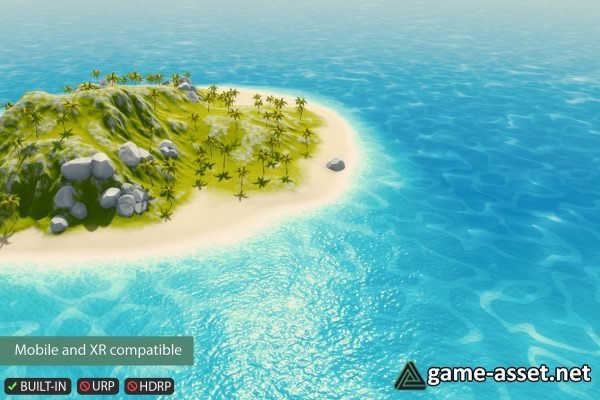 Stylized Water Shader – download Unity asset for free!
For the built-in render pipeline (excluding URP/HDRP). For URP, see Stylized Water 2 (20% upgrade discount).
Highly customizable to suit your art direction through various parameters. This package focuses on providing artistic freedom, rather than a realistic water simulation.
Also includes a mobile shader where features can be disabled to suit your performance target. Minimum requirement is OpenGL ES 3.0.
Colors
The water can be colored from shallow to deep through color fields, or through an integrated gradient editor.
The material reacts to ambient lighting conditions accordingly. Supports GI and Reflection Probes.
Intersection
Objects intersecting with the water, such as shores and rocks automatically receive a foam effect. Either as a depth-based effect or through vertex colors.
Features:
• Custom inspector, intuitively designed
• Single-Pass Stereo Rendering support
• Intersection effect with other objects
• Surface foam
• Orthographic camera support
• Advanced and Simple lighting modes
• Refraction (Desktop only)
• Planar reflections with blurring (Desktop only, excl VR)
• Shadow transmission from Directional Light
• Shallow wave animation (GPU)
• 8 normal map styles
• 7 intersection styles
• 5 wave heightmaps
• UV-based tiling or World-space (endless water)
• Tiling reduction (Desktop)
• Color gradient feature
• Can set the water level for Vegetation Studio/Pro
Contents:
• Island, lake and pond example scenes
• Desktop shader
• Mobile shader
• 4 matching water particle effects (splashes and circles) including shader.
WARNING! Does not support:
• Scriptable Render Pipeline (LWRP/URP/HDRP)
• Buoyancy
• Spot lights
• Lab Renderer
• Reflections in VR (SPR)
• Spherical water
• Multiple Planar Reflections renders
Asset version: 2.1.5