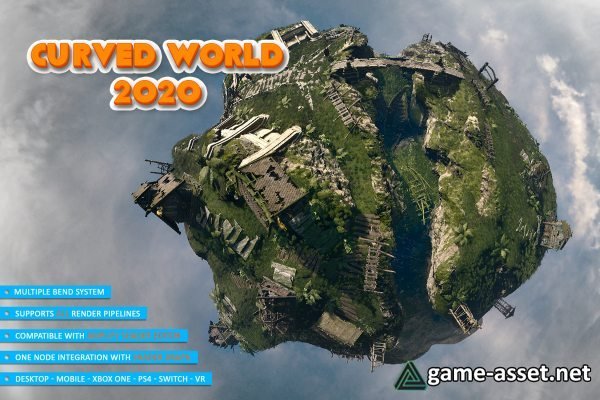 Curved World (2020) – download Unity asset
Curved World 2020 is new rebuild, upgraded and improved version of Curved World which is on the market since 2014.
Curved World 2020 brings new features that weren't possible before:
* Using multiple bend effects simultaneously.
* One node integration for Shader Graph and Amplify Shader Editor.
* Fully compatible with Universal and High Definition render pipelines.
----------------------------------
Curved World is a complete collection of shader bending effects know as:
• Exaggerated horizon curve
• Horizon bending
• Spherical world
• Little planet
• Cylindrical roll-off
• Cylindrical tower
• Spiral bending
• Inception effect
• Twisted corridor
• and many others
Shader bending is a special and very effective vertex displace technique for creating bending illusion of a mesh and entire scene without modifying actual and original meshes.
Effect is visible only inside camera and does not disturb game elements like: physics, animation, AI, path finding and other mesh transformations.
Subway Surfers, Minion Rush, Animal Crossing and many others use those techniques for creating world bending effects.
Package comes with ready to use shaders for mobiles and high-end devices.
If included shaders are not enough and need something unique, Curved World has the easiest shader integration system and it can work with almost any asset from this store.
Supporting Shader Graph and Amplify Shader Editor using just one node makes building custom shaders even more easier.
Curved World supports all render pipelines.
Asset version: 2022.4
Download links for «Curved World (2020)»: