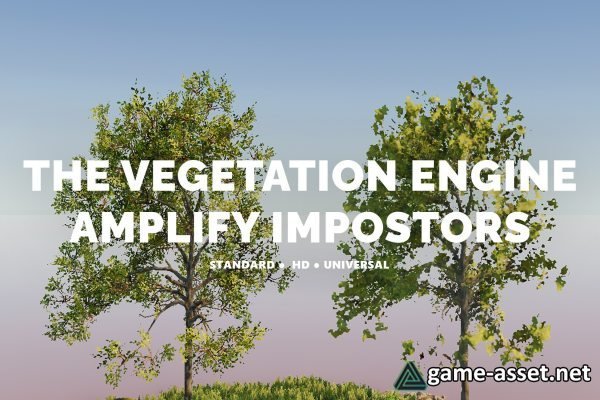 The Vegetation Engine | Amplify Impostors Module – download Unity asset
Combine the power of the award-winning shading and unification tools provided by the Vegetation Engine with the power of the optimized impostors provided by Amplify Impostors! The Amplify Impostors Add-on includes presets and runtime shaders for perfect baking with Standard, Universal, and HD pipelines, while the seasons, overlay, wetness, wind, and interaction remain dynamic!
⚠ Requirements
The Vegetation Engine 2.4.0+ asset is required for the add-on to work!
Amplify Impostors 0.9.0.007+ asset is required for the impostors baking!
○ Features
✓ The Vegetation Engine systems support: Motion, Seasons, Overlay, Wetness
✓ The Vegetation Engine elements support: Colors, Overlay, Wetness, Alpha, Motion Interaction, Motion Direction, Motion Flow, Wind Power
✓ Realistic Transmission support in Standard RP and URP | NEW
✓ Diffusion Profiles Transmission support in HDRP | NEW
✓ All light types are now supported for Transmission | NEW
✓ Deferred and Subsurface shader types support | NEW
✓ Baked Detail Blending support for Bark and Props | NEW
✓ Top Projection Detail Blending support Object shaders | NEW
✓ Separate color and saturation tweaking for bark and leaves | NEW
✓ Amplify Shader Editor support
✓ Zero global keywords used
✓ Basic demo scene included
Asset version: 6.4.0
Download links for «The Vegetation Engine | Amplify Impostors Module»: