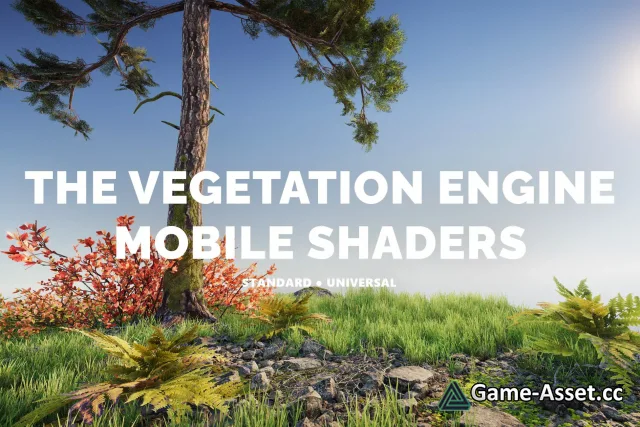 Download Unity Asset – The Vegetation Engine | Mobile Shaders Module
Use the shading and unification power provided by the Vegetation Engine now on mobile devices and VR. Create dynamic seasons, snow, wetness, high-quality wind, and interaction with the new shader designed for performance in mind! Switch prefabs to mobile shaders, before or after the conversion, with one click!
🛈 The Vegetation Engine is a set of high-quality shaders and tools designed to unify 3rd party vegetation under the same system. Enable high-quality wind motion, interaction, seasons, wetness, subsurface, height-based blending, etc. for all vegetation assets with Standard, Universal, or HD Render Pipeline!
○ Compatibility
The Mobile Shaders Module supports the following Render Pipelines:
✓ Standard Render Pipeline 2019.4+
✓ Universal Render Pipeline 7 - 12+
The Mobile Shaders Module has integration with the following 3rd party tools:
✓ Amplify Shader Editor - Full shader editing support
✓ Mega World Quadro Renderer - Procedural Instancing support
✓ Nature Renderer - Procedural Instancing support
✓ Vegetation Studio - Instanced Indirect support
✓ Vegetation Studio Pro - Instanced Indirect support
✓ GPU Instancer - Instanced Indirect support
The Mobile Shaders Module supports the following add-ons:
✓ The Vegetation Engine • Amplify Impostors Module
✓ The Vegetation Engine • Terrain Elements Module
○ Features
✓ The Vegetation Engine systems supported: Motion, Seasons, Overlay
✓ The Vegetation Engine elements supported: Colors, Overlay, Motion Interaction, Motion Direction, Motion Flow, Wind Power
✓ Basic Transmission approximation support
✓ Baked Detail Blending support for Bark and Props
✓ Top Projection Detail Blending support Object shaders
✓ Distance Size Fade support
✓ Amplify Shader Editor support
✓ Zero global keywords used
✓ Basic demo scene included
○ Limitations
🞫 Shader Model 4.0+ capable devices are required (Desktop / High-End Mobile)
🞫 Scalable Ambient Obscurance is not supported in Forward Rendering
🞫 Beta and Alpha Unity versions are not officially supported
🞫 HDRP is not supported and it is out of scope
Asset version: 6.6.0
Download links for «The Vegetation Engine | Mobile Shaders Module»: