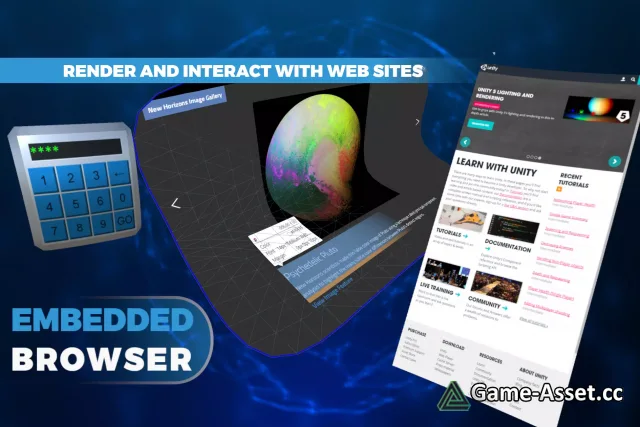 Download Unity Asset – Embedded Browser (Latest version 2022)
Render a webpage to a texture and fully interact with it! Expedite your inventory manager, simplify your registration page, or build a UI at lightning speed!
Features
- Render sites to 2D or 3D objects
- Chromium backend; best-in-class support for: HTML, CSS, and jаvascript
- Call jаvascript¹ from Unity
- Call Unity from jаvascript¹
- Transparent or opaque page background
- Embed HTML + assets in game
- Comprehensive 3D UI/HUD demo
- Context menus, alert/prompt/confirm/pw prompt
- Customizable design, no OS modals
- Control: url, back, reload, resize, etc.
- Mipmap-emulation shader: faster texture updates without sparkles
- Intercept new windows and create in-scene objects for them
- Minimalist JSON library
-
Asset version: 3.1.0
Download links for «Embedded Browser»: