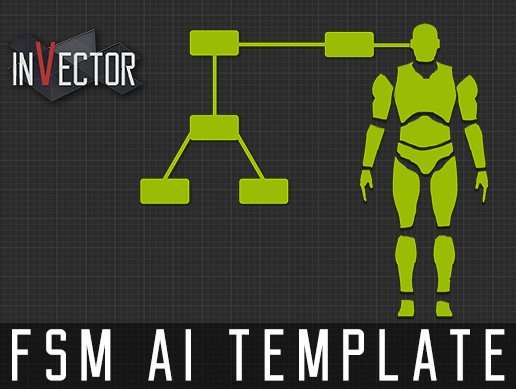 FSM AI Template – download Unity asset
After a long time of continuous development on our Third Person Templates we created a new template but this time AI is the focus. We already have a pretty cool AI in the Melee Combat Template but that was just a bonus so you can have a target to throw a few punches, but this one is a whole new thing.
Design from scratch with the goal to be customizable and expandable, this AI works with an FSM Node Editor that allows the creation of new behaviors easier with our built-in Actions & Decisions, advanced scripting knowledge is not necessary to create unique behaviors. It's not a traditional Behavior Tree neither a Scriptable Object concept but a new approach that combine some features from both.
It was designed with Third Person Templates in mind and it works great with, but it also works without the templates so you can use it in your FPS or VR project.
Features:
- Advanced AI Behaviour (Civil, Melee, and Shooter)
- FSM Behaviour Node Editor to create custom behaviors
- FSM Real time Debugger
- Waypoint System
- Ragdoll System
- Several Demo Scenes with examples
- Hitbox based combat
- Online documentation and video tutorials
Works great with FPS and VR, even better with Invector's Third Person Templates
- Humanoid and Generic models are supported
- Melee Weapon System
- Shooter Weapon System
- AI Spawner System
- Projectiles bullets with trail renderer
- Decals based on tags and more...
Asset version: 1.1.7b