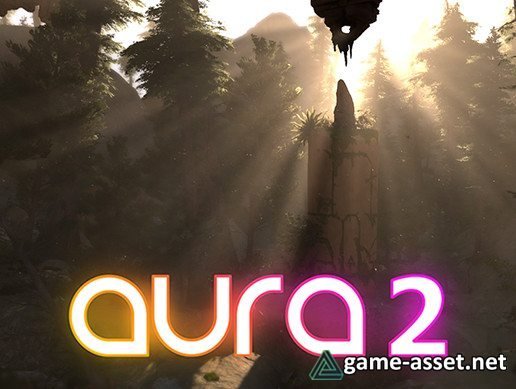 Aura 2 is a volumetric lighting/fog solution for Unity - download asset fo free!
Aura 2 simulates the illumination of the micro-particles that are present in the environment but too small to be visible to the eye/camera.
Aura 2 brings state-of-the-art volumetric lighting system to Unity.
This rendering technique is the same as the one used in the latest high-end games such as Tomb Raider, God Of War, Red Dead Redemption 2, Assassin's Creed Odyssey ...
Features :
▶ All types of light supported
▸ Full shadows support (1/2/4 directional cascade(s), spot, point)
▸ Cookie support
▶ Volumes injection (Global, Planar, Box, Sphere, Cylinder, Cone) with :
▸ Density injection
▸ Scattering injection
▸ Light injection
▶ Ambience Presets for 1-click kickstart
▶ Improved quality
▶ Multiple Cameras support
▶ Light Probes support
▶ Stereo / VR support
▶ Realtime preview in editor
▶ Toolbox with shortcuts
▶ Realtime Quality switch
▶ Fast Import Time
▶ Compatible with :
▸ Gaia from Procedural Worlds
▸ Amplify Shader Editor from Amplify Creations
▸ Bolt - Visual Scripting from Ludiq
▶ Opaque/Transparent geometry support
▶ Particles illumination, fog and density
▶ Works in Forward/Deferred
▶ Works in LDR/HDR
▶ Works in Gamma/Linear
▶ Texture2D and Texture3D support
▶ Dynamic 4D noise support
▶ Fully commented API
Upcoming Features :
▶ Cascaded Frustra
▶ 3D Mesh support for Injection Volumes
▶ Ambience Presets Volumes
▶ More Ambience Presets
▶ Realtime Texture2D Volumetric Scattering
▶ SRPs, LWRP, HDRP support
▶ ...
Aura 2 strictly requires full support of the following elements to work :
▶ RenderTextures (3D as well)
▶ Texture2DArrays
▶ ComputeShaders
Please verify that the support of these elements is not limited especially on lower platforms.
Aura 1 and Aura 2 are not compatible with each others. Please delete all references to Aura 1 before importing Aura 2 in your project.
Aura 2 currently does not support SRPs, LWRP or HDRP as they are still in Preview and subject to consequent changes.
Aura was developed and tested on Windows and DirectX11.
Other platforms and Consoles are on their way but are currently not guaranteed.
Asset version: 2.1.16
Download links for «Aura 2 - Volumetric Lighting & Fog»: