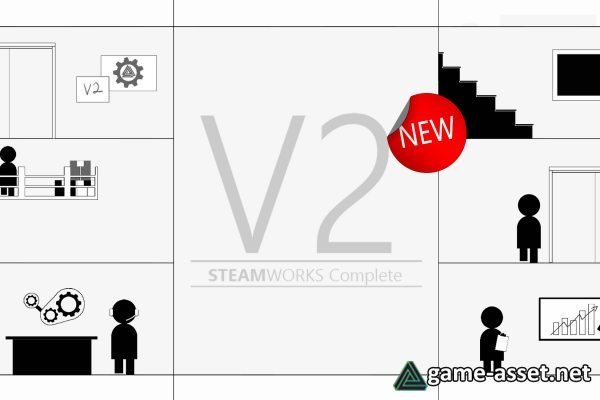 Steamworks V2: Complete – download Unity asset
A powerful set of tools, systems and editor extensions to make you integration with the Steam API easier, faster, and more robust. Make the most of Steam for your game!
Heathen Engineering's Steamworks V2 is a set of tools, systems and editor extensions designed to make integration of Valve's Steamworks with your Unity project easier, faster, and more robust. Steamworks V2 covers every feature of Valve's Steamworks Client API and provides you with custom editor extensions, tools and systems so you can make the most of Steam for your game.
If your migrating from Steamworks V1 please understand that v2 is a massive structural change. You will need to remove Steamworks v1 and then install v2. Any existing code designed to work with V1 is unlikely to work with V2 without changes.
This asset uses Steamworks.NET under the MIT license; see ThirdPartyNotices.txt file in package for details.
Want to learn more?
Visit the main site at HeathenEngineering.com
How is this different from Steamworks.NET or Facepunch.Steamworks?
Heathen's Steamworks V2 is not just a C# wrapper around the Steam APIs, its actually built on Steamworks.NET which is a true to form conversion of Valve's APIs to C#. No, what we bring to the table are tools, extensions and battle tested systems all designed and built with Unity and Unity developers in mind.
With Heathen's editor integrations you can configure and connect your Steam artifacts like stats, achievements and leaderboards to existing behaviours and objects with little or in many cases no code at all. Heathen takes it further with the Steamworks Inspector, an editor tool that helps you debug your integration and peer into the API at simulation time.
The Steamworks Inspector's Inventory Editor gives you the tools to visually design your Steam Inventory model and then generate the Item Definition JSON needed by Valve. V2 is an extension of Steamworks.NET and the Steam APIs not a replacement so any existing Steam based code you have or find will work right alongside our tools and systems. Rather you are a seasoned veteran or new to Steam or Unity, Heathen's Steamworks V2 can empower you to do more.
Asset version: 2019.2.15.7