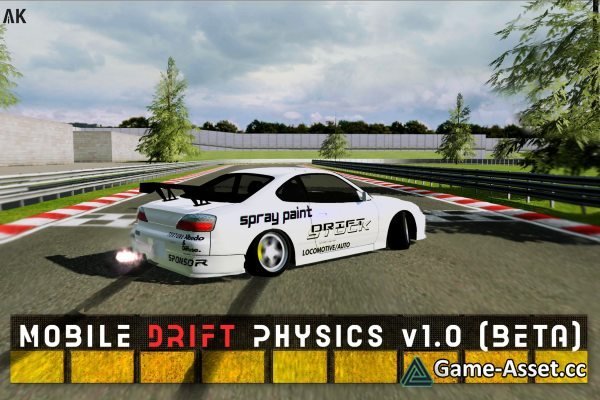 Mobile Drift Physics – download Unity asset.
Mobile Drift Physics is a AAA motorsport asset for mobile drifting games.
Unlimited supply of new vehicle, body skins and rim styles, wheel skins, stickers and liveries available FREE of cost in future updates.
Kickstart your mobile drift racing game with a package which includes ready-to-go drivable pack of cars.
All vehicles are included in the package as well as the environment.
Very well 15 page documentation explaining all components. An advanced section for developers also included.
All new assisted style of arcade drifting inspired by popular simulator games.
Free of cost updates, bug fixes, improvements, and much more!
Greatly mobile optimized
Vehicle PolyCount Details :
Vertices : 10k-20k
Tris : 10k-20k
Texture Resolutions :
Skins : 1k
Maximum Res : 2k
Collision Meshes : Few meshes have colliders generated. Developer can select meshes and add mesh collider component manually.
Objects : Separated objects on texture basis .
Textures, Maps & Materials : Different objects have different textures and materials using Unity's standard shaders. (RP specific)
Asset version: 1.1 BETA
Download links for «Mobile Drift Physics»: