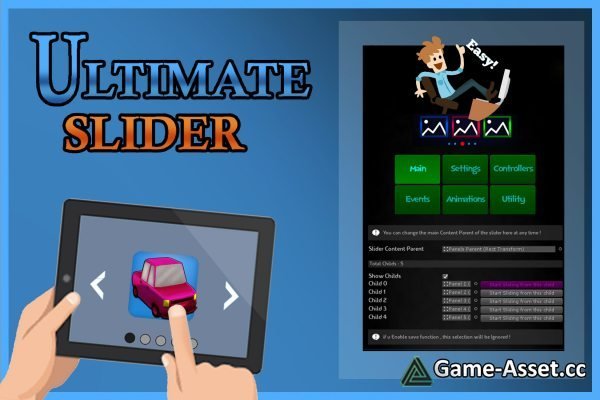 Download Unity Asset – Ultimate slider is a package that greatly simplifies the implementation of a standard slider using unity.
Not only It has every thing you need to make a slider but it can also help you animate them with lots of control over it.
Functionality and design go hand in hand in order to offer a pleasant User Experience (UX) while using the system.
Features:
-Scroll or slide any kinds of GameObjects (3D - 2D - UI)
- 33 Different Movement style
- 6 Different controller type
- Moving on any 2D or 3D direction
- Realtime adding , removing , swapping slide (Full API Included)
- General and special Custom Events
- Utilities (Save and load slider position , Handles , etc ...)
- Automatic Movement
- Different 3D and 2D transition effects
- Optimized and Compatible with any platform Inc. iOS, Android, Windows Store
- Very easy to setup, no programming required!
- Fast, feature-rich and extremely flexible
- Easy to use and well documented
- Full source code
- Does NOT require Unity Pro
why you should use Ultimate Slider ?
- It Save's your time
- You won't need programming skills to use it
- It is Easy for improvement
-Easy to learn. Intuitive design
- In-Editor Documentation Links
- Dedicated Support
- Clean Code. Easy to understand, modify and test
- Full C# source code is provided
Asset version: 1.4