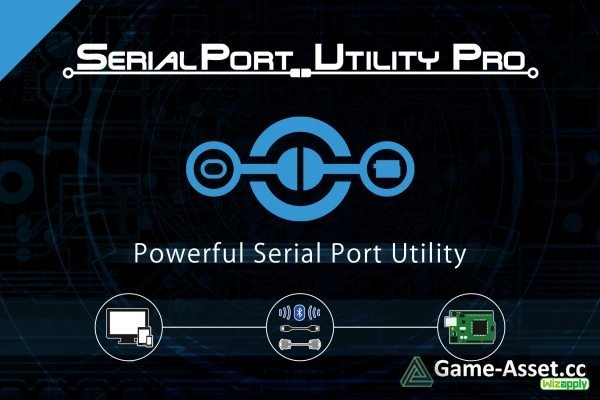 Serial Port Utility Pro – download Unity asset.
Powerful Serial port utility in Unity for Android, Linux, Mac OS, and Windows.
This is extended plugin for Unity that gives developers an easy to use powerful computer communication solution. When you use this plugin, you can spend time on important other works.
Features:
+ Implement Computer-to-Computer communication in Unity easily via serial ports.
+ Implement Computer-to-Microcontroller(Arduino, Ftdi, Microchip, Cypress, Silicon Labs, etc.) communication in Unity easily via serial ports.
+ This plugin can specify the unique ID of a device and can run a device. The stable systems development is possible.
+ Support cross-platform with Windows, Mac, and Android.
+ This plugin does native processing asynchronously and is optimizing to Unity.
+ An event-driven function for data reception. By this, the design of software becomes very easy.
+ There is a system which puts a JSON type into the variable of a class directly.
+ In this plugin, after carving a character string automatically, these are converted to List class or Dictionary class.
+ The native code implements I/O. Late and heavy processing ".NET System.IO.Ports" is unnecessary.
+ Error detection by physical disconnection of a device.
+ USB, PCI, EmbeddedUART physical interface supported.
+ Bluetooth SPP (Virtual COMPort) supported.
+ TCP Serial Port Emulator (Server mode and Client mode) supported.
Asset version: 2.6