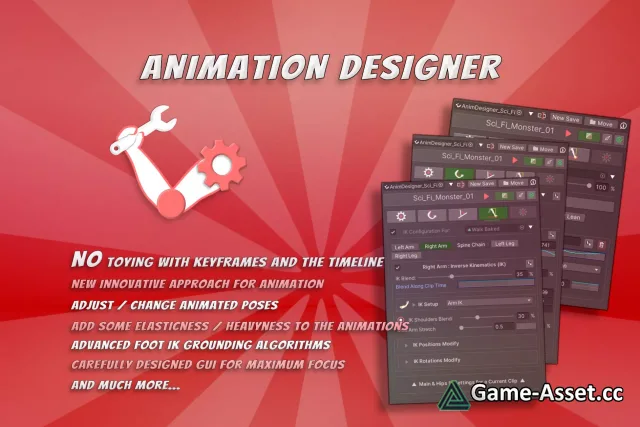 Animation Designer – download Unity asset.
Innovative Animation Tweaking Tool For Unity Engine. Upgrade Animation Clips with procedural motion and bake it. Tweak Animation Clip pose and save it in new AnimationClip file.
✍ BEFORE YOU BUY:
! This is Editor Tool - No Playmode Required
! This tool is NOT dedicated for creating animations from zero point, it's for upgrading/adjusting already animated clips
! This tool is dedicated for humanoid creatures but you can still greatly improve animals/creatures animations (for more check tutorials)
! This tool works with all animation types as: Humanoid, Generic and Legacy
! This tool is dedicated for 3D Skeleton Animations
! This tool is generating new Animation Clips, that means there is no additional CPU/GPU weight, you can use generated clips for VR/Mobile just like any other animations.
! This tool is dedicated for body animations, but NOT for fingers / face animation
! This tool requires some animation knowledge to make best use on your models
! Tool works with all render pipelines, just the demo scene is using two standard materials to convert.
Asset version: 1.0.9
Download links for «Animation Designer»: