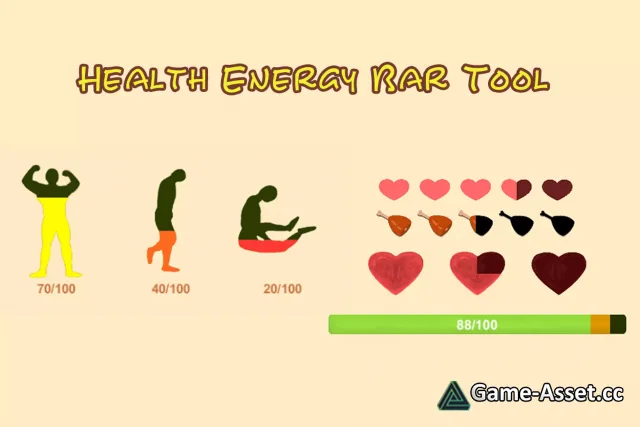 Download Unity Asset – Health Energy Bar Tool!
HealthEnergyBarTool makes it easy to create dynamic state UI for your game, such as health bar, energy bar, hunger score, etc
Not just a single bar of blood display, but a representation of many heart images like Zelda can be implemented quickly,or define different display images and colors in multiple states and without any code
Remember, there are many different ways to display, choose one or more of your favorites and join the game!
3 different UI performance effects, a variety of custom dynamic effects
1.LongIconBar:
This is the most common way to display, often used for health, energy and other values
2.OneLongIconBar_ManyStateIcon:
This style builds on OnLongIconBar and changes the current UI image based on the ratio of the current value to the maximum value
3.MultipleIconHealthBar:
This style splits the value into paragraphs, each of which presents the value in a separate UI, similar to Zelda's Heart Health UI
Completely written in C#, fully using UGUI, clean and simple source code, modular design, easy to use customization and extension
A simple setup will do just that, just a simple setValue ()!
Can be used directly, easy to use!
Asset version: 1.2
Download links for «HealthEnergyBarTool»: