A Survivors Icon Kit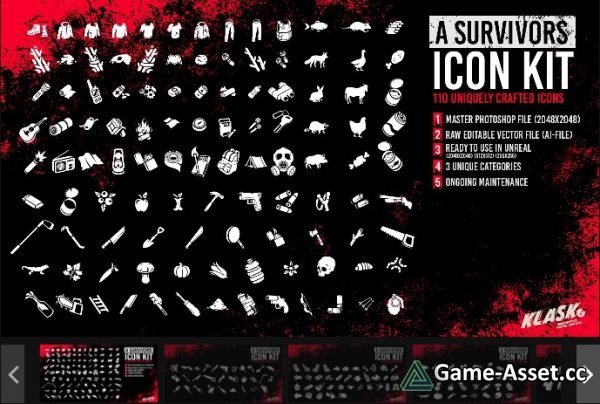 Download Unreal Engine Asset – Survival Icon Pack that contains over 100 unique handcrafted flat icons!
A complete Survival Icon Pack, which contains 110 unique handcrafted flat icons split into three different categories:
Weapons For The Apocalypse
A Scavengers Prey
Hunting For Food
+ 10 bonus icons!
Every icon is created with care and quality in mind so that you can easily implement and boost the look of your game. Variation is key and therefore we have tried to make as broad an icon-pack as possible within the genre of Survival-games.
But what do you get?
110 Unique icons set up and ready in Unreal: 256x256, 512x512, 2048x2048
The raw MASTER Vector file (so you can edit, merge, or create even more icons - you decide!)
All 110 icons is set-up in one MASTER PSD-file at the resolution of 2048x2048, ready to be colored or edited the way you want them.
Features:
110 Unique icons set up and ready for Unreal in: 256x256, 512x512, 2048x2048
Master Photoshop File (psd)
Master Illustrator File (ai)
Number of Textures: 74 icons
Download links for «A Survivors Icon Kit»:

Rating: