Scanlabz Interior Volume 1&nbspv5.0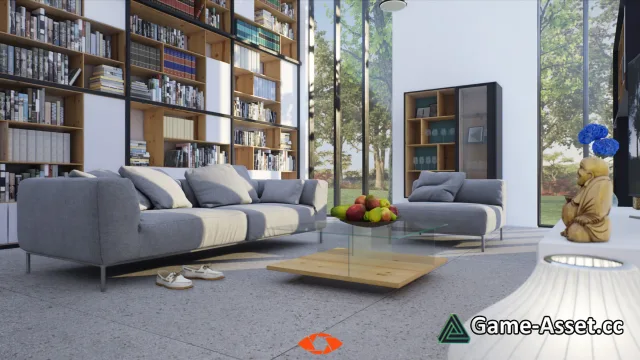 Download Unreal Engine Asset – Scanlabz Interior Volume 1. Large selection of low poly models optimized for best looks and high performance.
The Scanlabz Interiors Vol 1 Collection Will Blow Your Mind!
For the low price - You will get over 100 unique books and many book piles, three different couch combinations, 4 photo-scanned Fruits thrown onto a Fruit-Plate and many other photo-scanned decorative assets.
A wall system is also included which will enrich your interior setup.
Scanlabz works on every mesh carefully in order to optimize its polycount, maintain its high quality appearance and still guarantee high FPS - Numbers.
Every object is tested within different Lighting Scenarios. Static, Stationary and/or Movable Light-Setups will work without trouble.
The Screenshots shown here were taken at approximately 70 - 120 FPS in Full-screen mode.
Features:
104 unique Books
11 Book Piles
25 Decorative Props such as Flowers, Shoes, Boxes, Picture Frames, Fruits etc
One Photo-Scanned Tree from the Scanlabz Trees Vol 1 Collection
3 Upholstery Props
7 Wall system props
Asset version: 5.0
Download links for «Scanlabz Interior Volume 1»:

Rating: