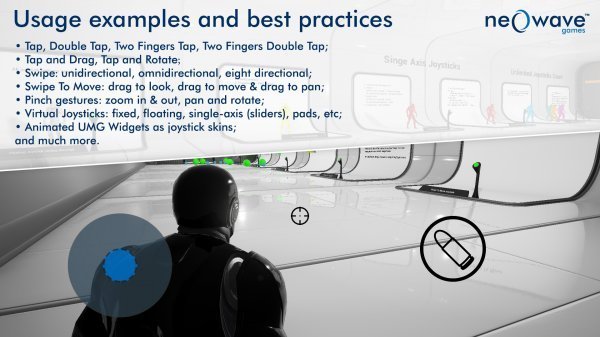 Download Unreal Engine Asset – Ultimate Touch Components
This is highly customizable, easy to use touch components for mobile and PC devices with touch screen. You can easily add tap, swipe, drag to look, drag to move, pinch to zoom, pan and rotate gestures or virtual joysticks with many different behaviours and UMG skins to your existing characters or actors. A lot of configuration options will help you gain full control of behavior tweaking and visual representation. In addition to components you will also get 18 helpful examples. Use migrate asset feature to easily move desired example to your project. You can track development of the asset and vote for desired features on special trello board.
Features (v3.0):
• Tap, Double Tap, Two Fingers Tap, Two Fingers Double Tap;
• Tap and Drag, Tap and Rotate;
• Swipe: unidirectional, omnidirectional, eight directional;
• Swipe To Move: drag to look, drag to move & drag to pan;
• Pinch gestures: zoom in & out, pan and rotate;
• Virtual Joysticks: fixed, floating, single-axis (sliders), pads, etc;
• Animated UMG Widgets as joystick skins;
• Bounds: define specific area for components;
• Priorities: set depth priority for overlapping components;
• Backgrounds Widgets: easily add UMG widgets as backround for any component;
• Auto adjustment when screen size or device orientation are changed;
• Crosscomponents compatibility;
• Networking support;
• Debug Drawing.
Asset version: 4.25-4.26
Download links for «Ultimate Touch Components»:
HOT4SHARE: